Ricked Wicky


Swimmer To A Liquid Armchair
Guided By Voices Inc. [2015]


Fire Note Says: The third time's the charm for this Robert Pollard side project.
Album Review: Critical writings on Robert Pollard's 21st century output have generally fallen into two groups: the True Believers for whom Uncle Bob can never err and those that have simply become overwhelmed by the sheer volume of stuff the man continues to release and tend to view everything after Alien Lanes as part of a long-trending decline. A more nuanced view is almost incapable of surviving the crushing force of those polar opposites. I for one tend to think of all the Pollard-related albums since the first disbanding of Guided By Voices in 2004 as a continuum. Whether it is the solo records, Circus Devils, the reunion albums or the magnificent Boston Spaceships LP's, the only consistent is inconsistency. The man is as unpredictable as he is prolific. There have been extreme highs and lows but they all seem to come from the same middle-aged muse Pollard's been following for a decade or so. But let's be honest here: who among us thought twenty years ago that he would still be cranking out interesting material this late in the game? Or that he would show zero sign of slowing down? So the hit to miss ratio has edged downward somewhat – who cares?
So where does this beast called Ricked Wicky – which includes long tome Pollard collaborators Todd Tobias (Circus Devils), Kevin March (GbV) and Dayton lifer Nick (no relation to Mitch) Mitchell – fit into the larger picture? First of all, it would be easy to expect a drop-off considering this is the third (yes, third!) Ricked Wicky album this year. Second, as you have no doubt surmised the by rating affixed to the top of this review, that kind of lowered expectation is precisely when Pollard offers up his best. The breaking in period is over and we the listeners are treated to twelve tracks that fit perfectly together and, with one notable exception, stand very nicely on their own. The opener, "What Are All Those Paint Men Digging", establishes the template well. Various, unrelated parts get thrown together in the collage-like style Pollard has shown such versatility with in his artwork. Instead of having these sections flail (and often fail) on their own, they are incorporated into an appealing and unsettling whole. The first single, "Poor Substitute", is the album's first stand out as well. Utilizing jangly guitars and Pollard's famously obtuse word play ("Try me a beast of burden I'll be more than qualified") it packs more hooks into 142 seconds than most bands can manage in their entire careers. Then there are songs like "Simple Simon Paper Plates" that take a darker turn only to be enlivened by March's best Keith Moon fills. At times I hear echoes of Kid Marine particularly in the guitar tone. Pollard's ability to take a riff and turn it into something special is on full display on "Red Legged Pygmalion." Just when you think the song's a bummer he finds that perfect little melody to pull it all together.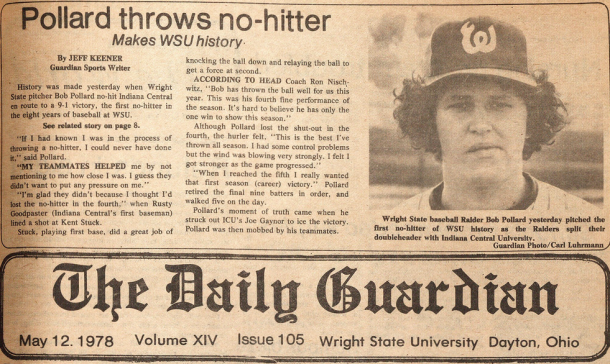 Being that this project is probably the most democratic thing he's done away from Tobin Sprout has been a source of both glee and concern. The Nick Mitchell songs are indeed the elephants in the room. More than a few Pollard fans have been less than kind about his contributions and the first (of two) tracks where he sings reinforce this view as "Blind Slide" is easily the worst song here. But then we get "Plastic Oceanic Getaway" where Mitchell channels his inner Geddy Lee and the song could really be an outtake from Fly By Night era Rush. Much about how you feel about Ricked Wicky turns on whether or not you welcome this new voice into the Pollard universe and, until now, I did not love his input. But on the strength of that one song my opinion has changed.
We all know Robert Pollard can write a good song or fifty but it has been revelatory how he, at the ripe old age of 57, can maintain both the quality and quantity of his work. If you've been unable to keep up, then Swimmer To A Liquid Armchair makes for an excellent re-entry point. It's the shortest of the three Ricked Wicky albums but it is also the best. And who know? Maybe it will encourage you to go back and re-evaluate such late era Pollard gems as Moses On A Snail or Jack Sells The Cow. Either way, it's time to dispense with the notion that Pollard's best days are behind him for clearly they are not.
Key Tracks: "Poor Substitute" / "Simple Simon Paper Plates" / "Red Legged Pygmalion"
Artists With Similar Fire: The Who / Bob Mould / Cheap Trick

Ricked Wicky Website
Ricked Wicky Facebook
Rockathon Records
-Reviewed by Scot Lade
Latest posts by Scot Lade
(see all)