Lucero


All A Man Should Do
ATO Records [2015]


Fire Note Says: Lucero tones down the party for a minute with their spirited Memphis soul.
Album Review: Lucero is easily one of the hardest working bands out there and have been grinding the highways since the late 90's. The group continues to struggle with life on the road versus being at home and that is never more evident than on their newest and most mature sounding long player All A Man Should Do. Honestly, it is the perfect groove for the seasoned band being as it is their 10th full length and first since 2012's really polished Women & Work. As much as we want it to be, life is never one big party and Lucero reflect on that throughout this soulful new outing.
It is no secret that lead man Ben Nichols has had his own royal rumbles with alcoholism in the past and both "The Man I Was" and "I Woke Up In New Orleans" address the issue while elsewhere on the record, "Baby, Don't You Want Me" and "They Called Her Killer," revisit how hard relationships can be. You never get to this point in your life or career without the experience, so there is nothing on All A Man Should Do that seems like a stretch for Lucero.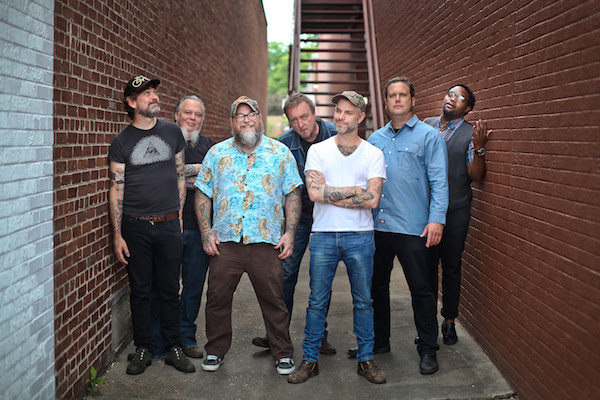 Some fans will still scream they want another Tennessee (2002) and if that is what you are looking to Lucero for in 2015 – you will be disappointed. That isn't to say that All A Man Should Do doesn't have some more up-tempo numbers like "Young Outlaws" and "Can't You Hear Them Howl" but for the most part, we get to hear Nichols weathered whiskey vocals shine bright out front in a much more vulnerable state than before. This also includes Lucero's excellent straightforward cover of Big Star's "I'm In Love With A Girl" that features Jody Stephens from the band singing back-up vocals.
I am all about not punishing a band for changing up things. Lucero makes a shift here that meets their talents and lives and breathes Memphis, Tennessee. It lays off the horns a bit that have been very prominent on their last several albums (which I like) and also just might sound better on a porch than a crowded bar. Lucero fans should not worry – All A Man Should Do is a grounded offering that will play well live and has an excellent replay value. I also think that people that have never listened to Lucero before will appreciate this honest album that will end up stuck in your head well after it has stopped spinning.
Key Tracks: "Went Looking For Warren Zevon's Los Angeles"/ "This Old Death Reprise (It's All Gone)" / "I'm In Love With A Girl"
Artists With Similar Fire: Drag The River / Uncle Tupelo / Ryan Adams

Lucero Website
Lucero Facebook
ATO Records
– Reviewed by Christopher Anthony
Latest posts by Christopher Anthony
(see all)