Battles


La Di Da Di
Warp Records [2015]


Fire Note Says: Battles go purely instrumental on their taut third full length.
Album Review: Battles is a band whose fly-by-the-seat-of-their-pants approach can now be clearly segmented into three distinct, yet logically progressing, eras. was released in 2007 and featured an actual lead singer (the charismatic Tyondai Braxton). After he left, the remaining members enlisted guest vocalists (including Kazu Makino of Blonde Redhead and the one and only Gary Numan) to great effect on 2011's Gloss Drop. They have now dispensed with all pretenses of being a "regular" band and have gone totally without any vocals. The question then becomes: how does La Di Da Di fare in comparison? Have they renounced the chaotic joy of their past work in favor of a dancefloor-friendly formula? Thankfully, Battles is still Battles and this record merely continues down the road they themselves helped pave.
And the bedrock of that road is drummer John Stanier (formerly of Helmet fame.) Much like Hella or Deerhoof, everything revolves around an amazingly talented stick man. Stanier lays down some of the funkiest yet hard-pounding beats ever. Over the top of these guitarist Dave Konopka and multi-instrumentalist Ian Williams (ex-Don Caballero) weave intricate webs of non-linear melodies which often sound half improvised. It's math rock but also tinged with a techno flare for propulsive rhythms and repitition. It's the soundtrack to some far out and futuristic orgy. The album begins with "The Yabba" and it does a good job introducing the general feel found throughout. A myriad of different tones and textures come and go. From pure electronica to distorted guitars as themes drift by in succession – sometimes merging, other times ignoring entirely what came before. For brief moments they work within pentatonic scales and then, suddenly, cast off conventional Western nodes in favor of quasi-Asian tonality. Similarly on "Dot Com" the dense and claustrophobic arrangement gives way to power chords which jar the senses more powerfully that the surrounding cacophony ever could. It's like a moment of clarity amidst as sea of madness.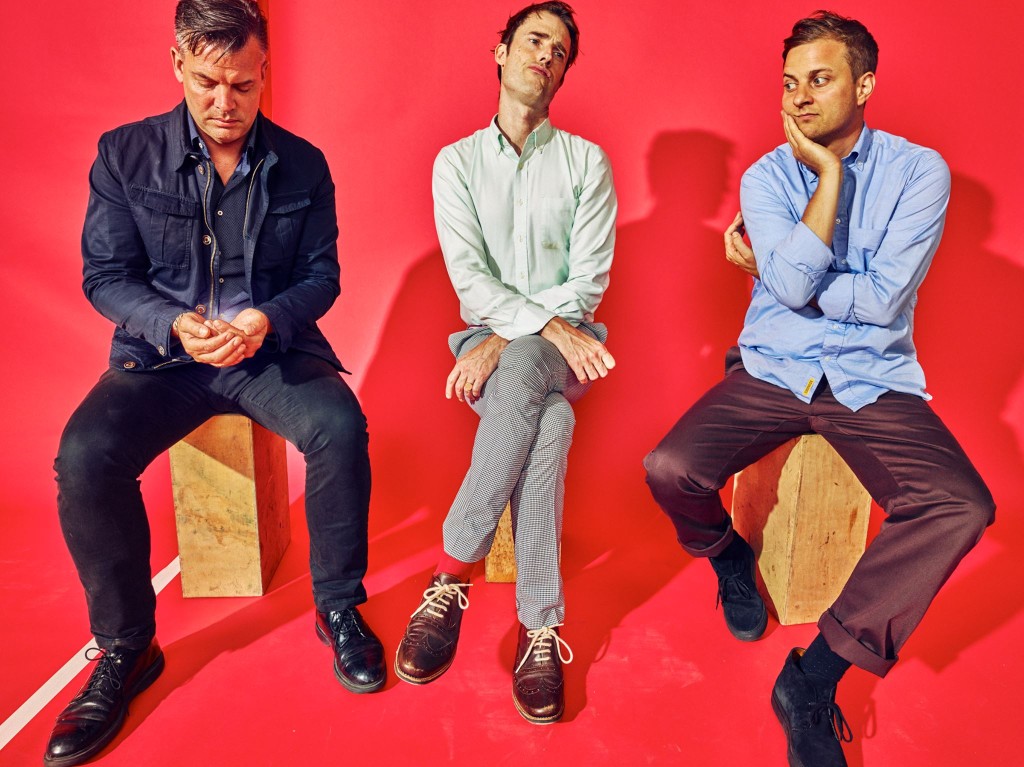 The track that best represents where Battles currently resides within their own career arc is "Summer Simmer." It cuts a severe groove and never lets go. In spite of the obvious reverence given to EDM it does not pander to any passing craze. It builds in intensity with repeated phrases which become more and more complex only to ultimately surrender to a childlike wonder as demonstrated in the last minute of the song. When firing on all cylinders like that it is easy to forget what's lacking: the vocals. But are they really missed? I think they are but only during the minor tracks like "Cacio e Pepe" which primarily serve as Eno-esque soundscapes connecting the longer, more evolved numbers. In those quiet reposes perhaps one has time to reflect but when the band gets cranking it up again those thoughts disappear completely.
is a success on just about every level. This phase of Battles is consistently as satisfying as the first two though in a more focused way. With hindsight I now find that the computerized vocals of Braxton were a distraction and the multiple guest vocalists on the second album created a fractured vision of this unique band's singular vision. As a result this may, in fact, be Battles' finest and most refined hour.
Key Tracks: "The Yabba" / "Dot Com" / "Summer Simmer"
Artists With Similar Fire: Parts And Labor / Lightning Bolt / Hella

Battles Website
Battles Facebook
Warp Records
-Reviewed by Scot Lade
Latest posts by Scot Lade
(see all)