HeCTA


The Diet
Merge Records [2015]


Fire Note Says: Kurt Wagner follows a new path with his band HeCTA.
Album Review: Kurt Wagner tends to duck any fight to establish a legacy as a treasured American songwriter. He's a considerable talent, but not particularly interested in pushing it on you. Where Lambchop cut a very clear lane for itself with 2000's Nixon, the band never made much of an effort to follow through commercially. Artistically? Well, I find myself at a bit of loss when digging through the catalog.
Maybe that's not so uncommon for a band that was lumped in with alt-country's most prosperous moment at the turn of the century. What might be a little more unexpected is a turn into house music 15 years later. Maybe even more unexpected is that it's a worthwhile, if curious, denouement on the Lambchop legacy, such as it is now, and not an entirely unpleasant listening experience.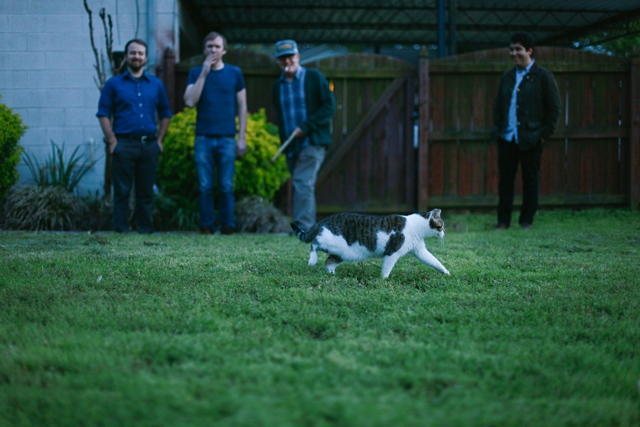 "Sympathy for the Auto Industry" makes a strong argument for crossover success with an affable analog riff and easy pacing. So much so that when it sticks around for a senseless coda, you're happy to indulge it bouncing around for another minute or so. The rest of the album is more of an exercise in texture and genre that, while not always successful, tends to give a sideways look into Wagner's preoccupations and creative process. Often you'll catch his delivery turning into mumbling, structure just out of reach, while a very austerely mixed but otherwise lifeless series of loops grind away. Oh but what a mumble. A sense of loss, a reflection on artifice? It's hard to say.
Wagner has always been really good at walking you around the interior of an unsteady life before bringing you to an emotional payoff that would have been missed if you had to look at it. His work with HeCTA eschews the payoff and instead just follows the errant thought process of a misanthrope, a derelict alcoholic, a machinist? Sure, it takes a little more work on your part, but you shouldn't have expected a clean fight. Dude tends to duck.
Key Tracks: "Sympathy for the Auto Industry" / "Change Is In Our Pocket" / "Til Someone Gets Hurt"
Artists With Similar Fire: Totally Enormous Extinct Dinosaurs / Figurine / Reflektor-era Arcade Fire

HeCTA Website
HeCTA Facebook
Merge Records
– Reviewed by Neil Barbour
Latest posts by Neil Barbour
(see all)