Iron Maiden


The Book Of Souls
BMG Records [2015]


Fire Note Says: The unapologetic British metal legends return with a vengeance.
Album Review: I've always been quite fond of Iron Maiden. They were one of the very few bands that helped me get through that dismal musical wasteland of the eighties. Although the nineties were far less kind to them as their records became less and less essential, the new millennium saw the return of singer Bruce Dickinson and guitarist Adrian Smith for the impressive Brave New World LP and it's been a nice little run since then. Now with their fifth album since Dickinson's return (and sixteenth overall) they continue this surprising trend.
There's been a five year lapse since Maiden's last record, The Final Frontier, and in that time Dickinson has battled tongue cancer which he has recently stated was a result of contracting HPV via too much oral sex (hey, that's way, way too much information, Bruce) and his voice has indeed changed over the years. It's raspier and less able to hit the high notes but it is still effective. If there has been a complaint about the band's recent output, however, it's been the average song length bulging to around eight minutes. So what do they do here, retrench and retool with tighter song structures? Hell no!!! The Book Of Souls is not only their longest LP to date (coming in at over ninety minutes) but it also boasts the band's longest song as well, the epic "Empire Of The Clouds" which at 18:04 scans like a Prog tune. And what of it? Bass player and founding member Steve Harris has never been shy about Iron Maiden's influences from Genesis and Jethro Tull to Uriah Heep and Deep Purple and now it all kind of makes sense. The rest of the line-up is the same as the last four records: Smith is joined by Dave Murray (of course) and Janick Gers (who was Smith's replacement and stayed with the band upon his return) forming a three guitar attack. Once again Nicko McBrain keeps the beat in his standard (read: stellar) fashion. Basically the same crew (plus Gers) that gave us two of the eighties finest records, regardless of genre – 1983's Piece Of Mind and the following year's Powerslave. No one is going to confuse this one with those milestone releases but they do give it a great effort.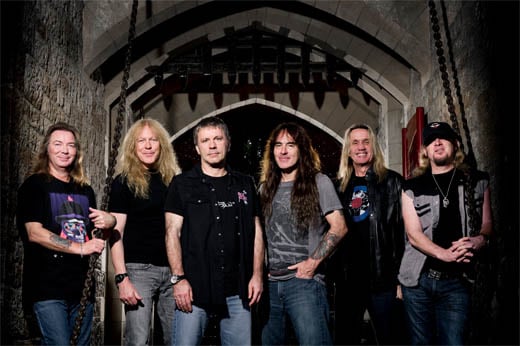 The album opens with "If Eternity Should Fail" and it does set the tone fairly accurately. Moody, melodic throwback metal without a whole lot of the current signifiers hurting much of what's being put out by their contemporaries. Maiden still believes stridently in what they do. The next track, "Speed Of Light", is built around a tidy riff and, as one of the shorter tracks, it serves well as the lead off single. The first stand-out song, for me at least, is the Harris-penned "The Red And The Black." Beginning with bass guitar chords it quickly goes to the default Maiden gallop and it's like the band never left my turntable. It's comfort food for the ears. There's something very reassuring about them when they hit their mark squarely. The title track is equally archetypal and equally great. Somewhere in there they go astray and deliver a song about Robin Williams (the unfortunately titled "Tears Of A Clown") and yeah, it's not good. But really this album was always going to be about "Empire Of The Clouds" and whether or not they could pull it off. Starting with Dickinson on piano as a lovely theme develops and then the vocals come in and I'm reminded a bit of Richard Harris' voice on "MacArthur Park" – all thespian bluster, reaching for the cheap seats. Has it come to this? Luckily, I love a good show and a little drama never hurt anybody but comparing this to "Rime Of The Ancient Mariner" is inevitable and not entirely satisfying. But by the last third, the song really takes flight and stands as perhaps their finest tune in recent memory.
So I come to terms with The Book Of Souls on its own merits, of which there are many. As champions of an ideal, of a vision for what heavy metal "is" and "could be" we could do much, much worse. After 35 years and 16 albums Iron Maiden have carved out a huge space in history of Rock and, to their credit, they do not rest on those laurels. In many ways they deserve the benefit of our doubts. This may, in fact, be their final album. They have hinted at that possibility. And then again, maybe it won't. If they keep recording albums like this, that would be okay in my book of souls.
Key Tracks: "Empire Of The Clouds", "Speed Of Light", "The Red And The Black"
Artists With Similar Fire: Judas Priest / Slayer / Anthrax
Iron Maiden Website
Iron Maiden Facebook
BMG Records
-Reviewed by Scot Lade
Latest posts by Scot Lade
(see all)