Lou Barlow


Brace The Wave
Joyful Noise Recordings [2015]


Fire Note Says: Lou gives you plenty of acoustic intensity on his first solo LP in six years.
Album Review: Having seen Lou Barlow last month with the very loud Dinosaur Jr., I was ready for some more alt rock from the veteran when I put on his newest solo record Brace The Wave. Instantly after hitting play, I took a step back from my speakers as the acoustic strums kicked off in the opener "Redeemed." You immediately experience the rawness that is Brace The Wave – Lou, you and his instruments.
Of course, Brace The Wave is not that simple but the formula is over its thirty minutes and nine tracks. Now if you are familiar with Barlow's solo work, you will remember that Goodnight Unknown (2009) had a much bigger sound compared to his previous releases like EMOH (2005) and going way back to his home recordings and lo-fi Sentridoh. Brace The Wave is a return to those earlier days, as this record is built on Barlow's voice, both layered and in front by itself, and strumming the strings. What is infectious about the recording is that Brace The Wave contains plenty of intensity as you can hear the emotion in Barlow's voice as it almost trembles at points but never gets there. Some of this comes from the songs subject matter as several of the tracks were inspired by Barlow's recent relocation from LA back to his home state of Massachusetts.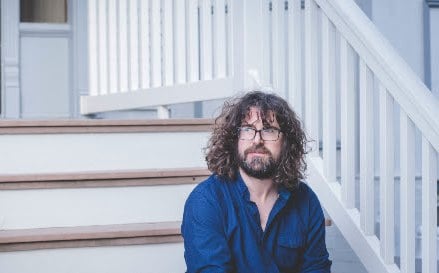 Brace The Wave is not the record that everyone is going to sing hi praises about because it has that laid back house show vibe. It is an album for fans and by that standard, I believe that followers will enjoy the album – especially on repeat listens. The record finds Barlow relaxed and confident as the almost 50 year old effortlessly moves through the album. At points, I think Brace The Wave has a similar sound to some of Eddie Vedder's solo work and more closely connected – the same "quiet" that was found on J. Mascis' last solo effort Tied To A Star (2014). Throughou this album, Lou has the same type of voice inflection as Vedder which has a calm energetic growl that really kicks these acoustic numbers up a level.
Lou Barlow may never be a household name based on his solo work but with a resume that includes Dinosaur Jr., Sebadoh and Folk Implosion, Brace The Wave is the perfect outlet for his thoughts, emotion and individual skills. These nine songs give you intensity without being intense, give you folk stylings without being folk and could give you a reason to cry even though you won't! If you are a fan, Brace The Wave is the perfect "put on and play" type of album and if Lou is reading – feel free to come over and play these tracks at my house any day of the week!
Key Tracks: "Moving"/ "Wave" / "Boundaries"
Artists With Similar Fire: Eddie Veddar / J. Mascis / Robert Pollard

Lou Barlow Website
Lou Barlow Facebook
Joyful Noise Recordings
– Reviewed by Christopher Anthony
Latest posts by Christopher Anthony
(see all)