The Arcs


Yours, Dreamily,
Nonesuch Records [2015]


Fire Note Says: Black Key Dan Auerbach has found a simmering new full band.
Album Review: When he is not producing albums or recording with his buddy Patrick in The Black Keys, Dan Auerbach hangs out with his musical friends and just lays down tracks. Around 75 of them, which made everyone sort of realize that releasing them might be a worthy project. With that decision, The Arcs have been formed and their debut record, Yours, Dreamily, will give you 46 minutes of simmering new tunes that possess a very old soul.
Giving Auerbach's vocals more tools to work with is exactly what happens on Yours, Dreamily, as Richard Swift (Shins), Homer Steinweiss, Nick Movshon and Leon Michels (all in Menahan Street Band) have big time resumes, that include producing credit and top end session playing. The Arcs also feature the all-female Mariachi group Mariachi Flor de Toloache, which just completes the musical circle. All of this talent puts together an absolutely smooth and stellar sounding album. Every instrument, every vocal and every rhythm can be heard on Yours, Dreamily, which is a true plus as you can tell nothing was forced in this debut. The Arcs are all really talented people.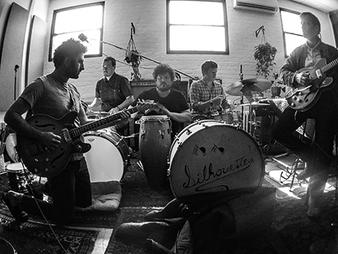 The overall mood and tempo on Yours, Dreamily, is mellow, which is fine as it bursts out in small moments. Single, "Outta My Mind," is one of those songs, as it plays like the most Black Keys type of song on the album. "The Arc," is another track that pulses and pushes with its foot tapping beat that represents a fresh break in the middle of the record. Every song on this record was co-written with the entire band so you also have a nice cohesiveness that is formed from The Arcs as Yours, Dreamily, seperates itself out easily from just representing a sophomore solo album from Auerbach.
If you have been a Black Keys fan over their last several records, The Arcs fit in nicely with the collection. There is nothing on Yours, Dreamily, that is super weird or electronic minus the near end of the album track "Come & Go," which is all over place with some layers that include heavy breathing over some of the guitar work. Honestly, I expected a bit more of this type of adventure but I actually enjoyed the mellower soul side of Auerbach which gives The Arcs staying power in their own groovy way.
Key Tracks: "Outta My Mind"/ "Pistol Made Of Bones" / "Cold Companion"
Artists With Similar Fire: Alabama Shakes / Captain Beefheart / Gary Clark Jr.

The Arcs Website
The Arcs Facebook
Nonesuch Records
– Reviewed by Christopher Anthony
Latest posts by Christopher Anthony
(see all)