Yes: Rose Music Center, Dayton, Ohio – August 14, 2015
With the untimely passing of co-founder and bass player extraordinaire Chris Squire from a rare form of leukemia, witnessing a Yes show threatened to be more like a wake than a concert event. Ultimately, it was more a celebration of his life and artistry. His hand-picked replacement, former nineties era Yes man Billy Sherwood, had already been named to take over bass duties on this tour while Squire dealt with his illness. It would mark the first time in the 47 years of Yes' existence that Squire would not be on stage with his mates. Unfortunately it has now become a permanent line-up change. This is no knock on Sherwood as he has the Yes pedigree, Squire's blessing and the chops to master the band's demanding material – both instrumentally and vocally as Squire's backing vocals had always been a major part of the Yes sound. So how did their sixth show without their fallen leader go? Very well indeed.
Joining Yes on this year's North American tour is Toto, a band I've admired but never been a huge fan of. They might have changed my mind. Their set was a nice mix of classic hits and songs from their latest LP, XIV. They too have experienced the painful loss of a bass player (Mike Porcaro) but their lively, energetic and tight-as-hell set was well-received by the Yes faithful who showed up Friday night. The new songs sounded great but the biggest surprise was an inspired and oddly fresh-sounding rendition of their 1982 smash "Rosanna." Never cared for it back in the day but on this night it shined with renewed vigor. Their set ended with "Africa" and all in attendance were more than ready for the main event.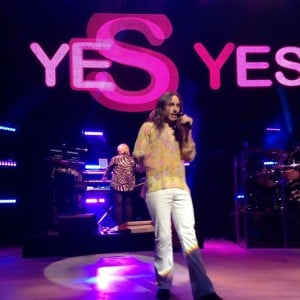 With the Squire-penned "Onward" playing over the PA his signature Rickenbacker bass was brought onstage while pictures of the man through the years flashed on the screen overhead. It was poignant and moving – a fitting tribute to arguably the greatest bass player to ever live. After that the band filed into position to Stravinsky's "Firebird Suite" and this has usually been followed by either "Siberian Khatru" (which was played later on) or "Parallels" but on this tour they open with "Don't Kill The Whale" – a strange choice from the oft-maligned Tormato album but for some reason it worked well. Steve Howe showed that despite his age he can still play guitar with an originality that has been his trademark since joining the band in 1971. The other "legacy" player, Alan White, held his own though simplifying many of the more challenging drum parts. Geoff Downes (Asia, The Buggles) has been in the Yes universe long enough to be an accepted part of it by now and did nothing to hurt that impression. It was lead singer (and relative newcomer) Jon Davison, however, who stole the show. Many long time Yes fans recoil at the thought of anyone but Jon Anderson behind the mic but Davison's tenor is strong and he's got the hippie aura just right. This guy can sing (just check out the Glass Hammer LP's he's sung on for evidence of that) but more than that he is young and excited to be there. I was skeptical (being a huge Anderson fan) but this guy delivered.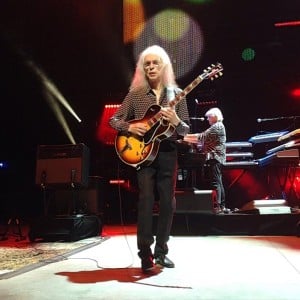 The set skipped the long epic tunes (so no Close to The Edge, Gates Of Delirium or Heart Of The Sunrise) and focused on shorter, more accessible songs from their pre-Big Generator discography. "Owner Of A Lonely Heart" was the "newest" song they played and that's a bit disappointing as they've made some incredible music since then but that's a really minor quibble. The band was on top of their game with each member engaged with each other and the material. Steve Howe has moved into the obvious leadership void and even attempted some between song chatter. And as the last notes of The Yes Album's centerpiece track "Starship Trooper" concluded there was a consensus that Yes had had a really good night, free of any technical problems or player mistakes. They were, in fact, damned near perfect. Not too shabby for a band many had prematurely written off. Underestimate the power of Yes at your own risk. They proved, if only for one night, that they're not ready to call it quits quite yet.
Set List:
Onward (Chris Squire tribute)
Intro (Firebird Suite)
Don't Kill The Whale
Tempus Fugit
America
Going For The One
Time And A Word
Clap
I've Seen All Good People
Siberian Khatru
Owner Of A Lonely Heart
Roundabout
Starship Trooper
Latest posts by Scot Lade
(see all)