Of Monsters And Men


Beneath The Skin
Republic Records [2015]



Fire Note Says: Of Monsters and Men return with their sophomore effort.
Album Review: Of Monsters and Men is the Icelandic band who had a huge hit with 2011's "Little Talks," and is currently gaining traction with "Crystals." "Crystals" is the lead single from their second LP, Beneath The Skin. Band members include Nanna Bryndís Hilmarsdóttir (lead vocals/guitar), Ragnar "Raggi" Þórhallsson (vocals, guitar), Brynjar Leifsson (guitar), Arnar Rósenkranz Hilmarsson (drums), and Kristján Páll Kristjánsson (bass). The lineup is classic (i.e., guitar/bass/drums), with the added wrinkle of Hilmarsdóttir and Þórhallsson (thank God for copy and paste) swapping lead vocals. This led to the success of "Little Talks," but works against the band most of the time on Beneath The Skin.
"Crystals" opens the album with rock anthem melodies and hooks. With this salvo Of Monsters And Men let you know that they're shooting for the stars. "Crystals" succeeds for the most part but is lacking creativity. Other tracks show that the band has it, like on "Slow Life." That track has a groove to it that complements Hilmarsdóttir's voice, allowing her to luxuriate all alone. "Slow Life" goes big with the chorus and brings on her counterpart's vocals. The brooding verses could've been better with a more understated refrain.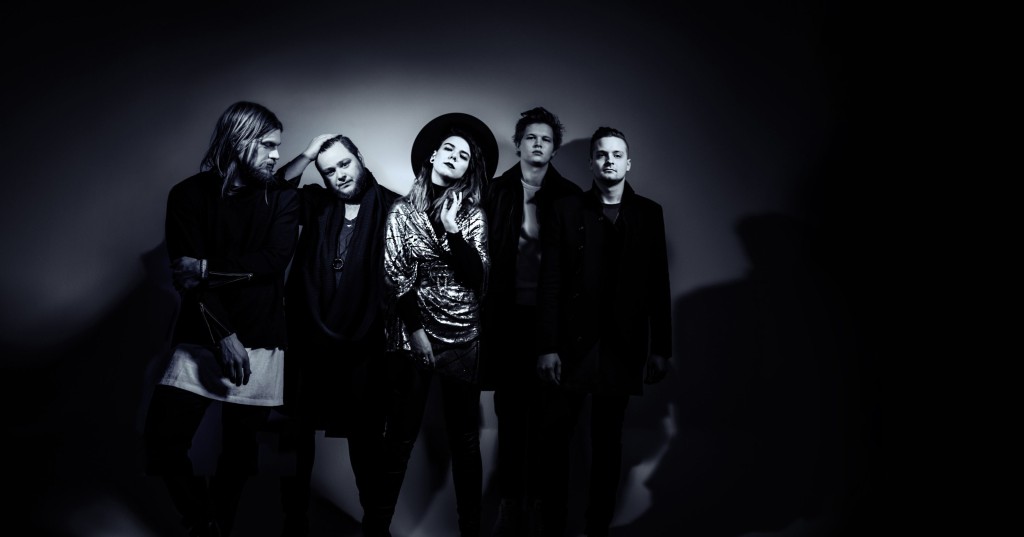 This is the fault of much of the album; call it Mumford & Sons-itis. Soft verses explode with big choruses ("Wolves Without Teeth" has one of the stronger ones here). Not only is the pattern wearing; this is not where Of Monsters and Men excel. They do dark and brooding really well but turn away from this choice more often than not. "Organs" is a ballad (thankfully not a power ballad) that plays against type on the LP. It is also strikingly devoid of Þórhallsson's cooing. Quite beautiful and moving, with piano and strings accompanying the bare vocals, I would've stayed more engaged with the album had it more songs like this one.
Success can be a blessing and a curse. Much of Beneath The Skin sounds like Of Monsters And Men searching for their next breakout hit. They may have it; they may not. What is for sure is that this album is often weighed down by its rugged devotion to sticking with the anthemic formula. When the band is content with being understated (and not forcing a male vocal into every damn song) they hit their mark.
Key Tracks: "Slow Life" / "Organs" / "Wolves Without Teeth"
Artists With Similar Fire: Mumford & Sons / Florence + The Machine / The Lumineers
Of Monsters And Men Website
Of Monsters And Men Facebook
Republic Records
-Reviewed by Matthew Heiner
Latest posts by Matthew Heiner
(see all)