Jason Isbell


Something More Than Free
Southeastern Records [2015]



Fire Note Says: Isbell hits his stride on confident follow-up to his classic LP Southeastern.
Album Review: After years of flirting with gaining a wider audience, Jason Isbell finally broke big on his excellent fourth album, 2013's Southeastern. While that album was his most intimate affair both musically and lyrically, Isbell's newest album, Something More Than Free, straddles the line of having both the intimate and a more band oriented sound similar to his earlier albums. While this might lead you to believe that this would give the album an unfocused feeling, nothing could be further from the truth, what it actually does is make the album flow fantastically, and gives it a nice pace.
Songs like album opener "If It Takes a Lifetime" and lead single "24 Frames" call for a fuller sound, while "Flagship" begs for, and receives a much more stripped down arrangement. The songs are jarring next to each other, but not unpleasant at all, if anything the fuller band songs perfectly set up "Flagship". "How to Forget" is another outstanding track, which seems to deal directly with Isbell's past struggles with addiction. Isbell's significant guitar chops are on full display on "Palmetto Rose", I know it's been almost a decade now, but let's not forget he was once a member of the triple guitar attack of Drive-by Truckers, and on this track and throughout the album, he cuts loose with some great leads to remind us that not only is he one helluva singer/songwriter, but he is a beast on the axe as well.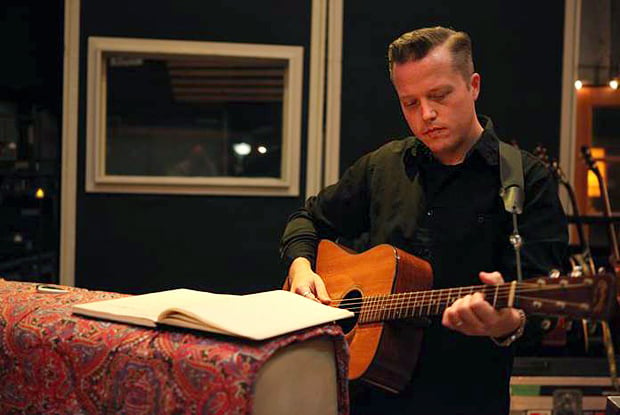 Something More Than Free has a vibe to it that's different than anything I have heard on an Isbell record in the past. The songs still probe the dark places of our souls, but it's coming at it from a different place, a more mature place, a perspective of someone who has gone thru the darkness and come out into the light on the other end. It sounds confident, and dare I say peaceful and relaxed. Isbell has made peace with his past and has shed a lot of the darkness that filled so many of his earlier songs. His growth as an artist has been remarkable to follow and I am looking forward to many years of great releases from him. It's a long way from "Goddamn Lonely Love" to "How to Forget", and it's been very rewarding to follow Isbell's growth and development from band member to full-fledged solo artist.

Key Tracks: "24 Frames" / "How to Forget" / "Flagship"
Artists With Similar Fire: Ryan Adams / Drive-By Truckers / Old 97's
Jason Isbell Website
Jason Isbell Facebook
– Reviewed by Kevin Poindexter
Latest posts by Kevin Poindexter
(see all)