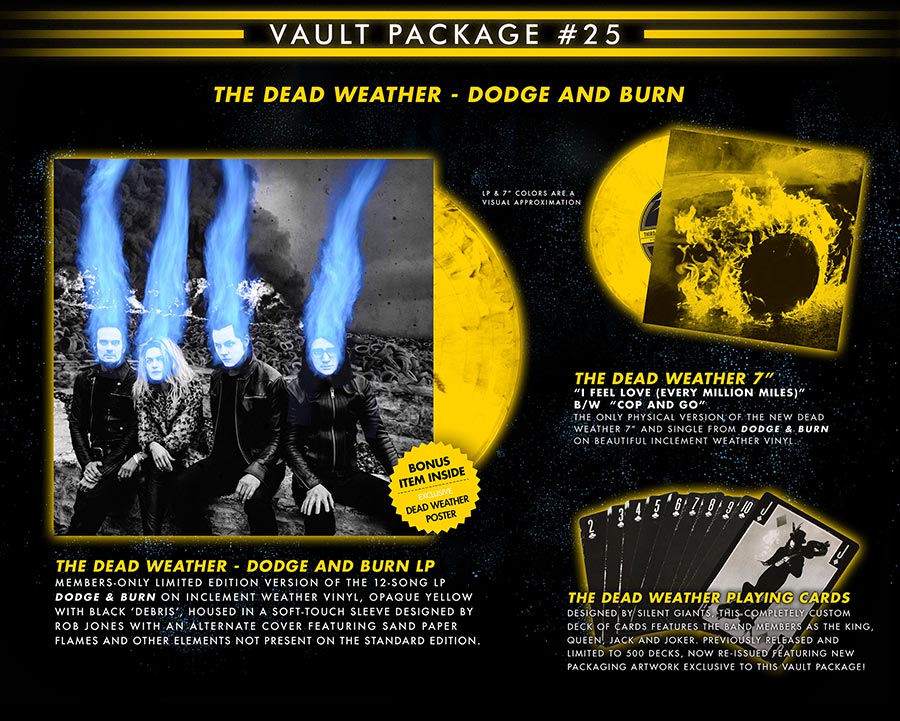 Here is a vault package that should be of interest to many. Third Man Records' Vault 25 is a Dead Weather special that features their new album, Dodge & Burn, a limited 7″ and some stylish playing cards. All of the specifics are below and you can order it up HERE.
The ONLY special, limited edition version of the new album will be released as Vault Package #25, which will arrive the same week as the standard album release in September. The Dodge & Burn Vault Package will include:
– A limited edition Dodge & Burn LP on Inclement Weather vinyl (that is to say opaque yellow with black 'debris') housed in a soft-touch embossed sleeve featuring metallic ink and a Vault-exclusive alternate cover designed by Rob Jones, also featuring a limited edition bonus poster inside.
– The only physical version of the new Dead Weather 7" and single from Dodge & Burn on yellow vinyl with black debris.
– A deck of custom Dead Weather playing cards designed by Silent Giants featuring the band members as the King, Queen, Jack and Joker. Previously released in limited numbers and now, due to popular demand, re-issued for the Vault only with new packaging artwork.
Latest posts by Christopher Anthony
(see all)