Haynes Boys


Haynes Boys
Slab / Re-Vinyl Records [2015]




Fire Note Says: Haynes Boys debut should be in your collection.
Album Review: How about I introduce you to one of the best roots rock records you never took for a spin? An alt-country / Americana staple before the genre was really defined. That would be the 1996 self-titled debut (and only record) from Columbus, Ohio's Haynes Boys. The recent reissue of this "local" classic has been newly remastered from the original tapes by Re-Vinyl Records and it sounds fantastic.
Featuring singer/songwriter Tim Easton, the electric guitar of Freddie Free (Thomas Jefferson Slave Apartments), drumming at its best with Jovan Karcic (Guant, Scrawl) and bassist Aaron Rice (Whiteworst), Haynes Boys were set from the beginning of this process. During a 1995 appearance at South By Southwest, a demo tape was passed to The Judds management, and found its way into the hands of producer Brad Jones. Next thing you know, Haynes Boys had a deal with New York's Slab Recordings and were set to record for 3 days at Alex the Great studios in Nashville and produced by Brad Jones (Josh Rouse, Hayes Carll) and Robin Eaton (The Spinto Band, Jill Sobule). The album then went into post-production with Fred Maher (Lou Reed, Matthew Sweet). All of this sounds like a story for success and with the exception of opening for some bigger acts, the record shamefully never took off.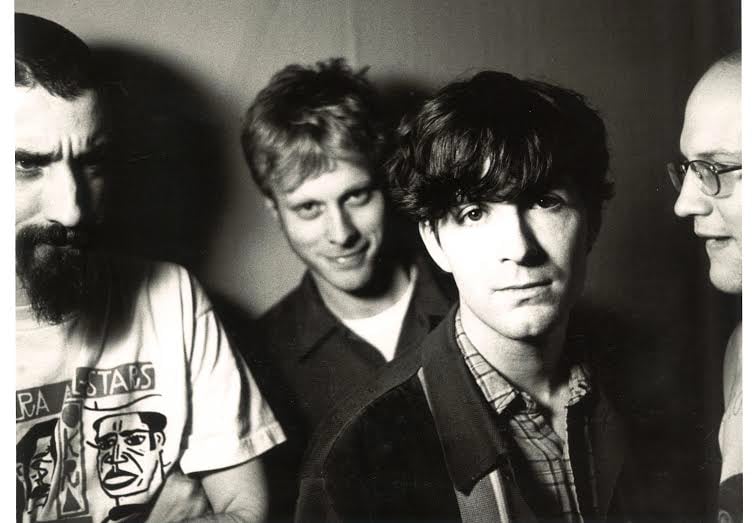 If you have ever listened to any of Tim Easton's work, you know that his wheelhouse is being more of a folksy storyteller. He of course is not afraid to rock it up but with the Haynes Boys there was no other way. This led to big barn stompers like the wild "The New Franklin County Woman" and the scorching "One Last Question" that showcased the Haynes Boys in your face and carefree attitude. Mid-tempo rockers like "Anybody" and "Goody Boy" were the glue that was the normal good time for the band while they also shined when things slowed down. "Bitters Past" is by far one of my favorite songs (of all time – not just here) because it is just simple greatness. Tim and his guitar make this song bigger than life and I think that most of us can relate to it on some level when he sincerely sings, "I don't want to grow old drinking / But I want to grow old drinking with you."
Along with Easton's Special 20 (1998), Haynes Boys self-titled debut ranks up there with top releases from Wilco, Drive-By Truckers, Bottle Rockets, Old 97s, Uncle Tupelo and Ryan Adams. It is just one of those records you should hear if this genre even remotely interests you. It was a bright spot almost 20 years ago in 1996 when it was released and it is a bright spot today. Along with the remastering, the new vinyl version has corrected jacket art and some new liner notes, making the reissue closer to what the band originally wanted. For me, the entire package is a win-win as the Haynes Boys will always be the album that escaped commercial success but won the hearts and ears of everyone that ever pushed play!
Key Tracks: "Jackie" / "Bitters Past" / "Murder, Murder"
Artists With Similar Fire: Old 97's / Wilco / Ryan Adams

Haynes Boys Facebook
Re-Vinyl Records
– Reviewed by Christopher Anthony
Latest posts by Christopher Anthony
(see all)