Evan Phillips


Silhouettes
Self-Released [2015]



Fire Note Says: Silhouettes is Phillips at his best!
Album Review: Anchorage, Alaska is not really a hotbed for new music but it should never simply be dismissed based on its map coordinates. I say this because when you hear singer songwriter Evan Phillips fourth solo record, Silhouettes, you may think about putting on a big winter jacket just to get in the spirit but there will be no need due to the album's Americana warmth. As a member of The Whipsaws and Easton Stagger Phillips, Evan Phillips has been carefully constructing quality roots rock his entire career. Silhouettes was written and recorded over the last 5 years and it showcases his now veteran status with his pensive lyrics, memorable hooks and passionate delivery.
You will be instantly captured from the first song, "Falling Down," as an acoustic guitar strum opens the track before it fully expands with Phillips' emotion and catchy voice. It is a memorable song about the reality of moving on after trying as Phillips sings "There's a time for leaving. There's a time to settle down." The following song, "The Fox," has a very Ryan Adams mid-tempo rock vibe to it, which really works while the title track is a song that takes this record up another notch. "Silhouettes" is the first we hear the striking vocal work of Seattle songwriter Courtney Marie Andrews as she delivers a verse and backing vocals. Her voice pairs nicely with Phillips and has a similar tone of Joy Williams (Civil Wars). She shows up on several other tracks throughout the record and has an excellent duel vocal part on key track "Lost In The Night." The song also features some killer pedal steel playing.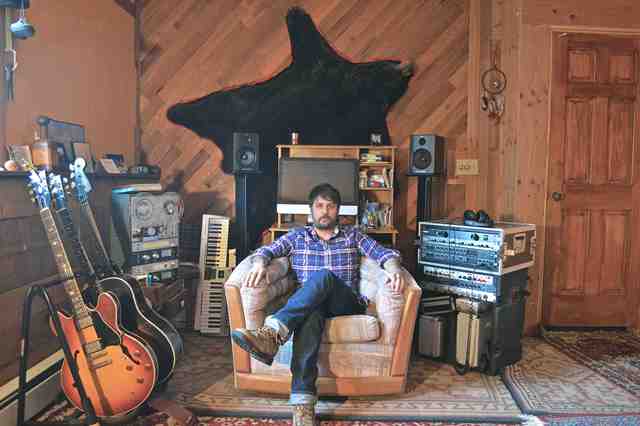 Evan Phillips is one of those singer/songwriters that are hard to peg. He can pull off a more back porch folk sound, like on the closer, "Guess I Was Just Young," while offering a War on Drugs type rock tempo during "Space Walker," which also comes with trumpet and synths. Silhouettes is easily one of Phillips most dynamic records to date as it highlights all of his strengths. It is a record that is completely capable of finding new fans – it just needs to get in front of them and the music will do the rest!
Key Tracks: "Falling Down" / "Silhouettes" / "Lost In The Night"
Artists With Similar Fire: Jason Isbell / Butch Walker / Ryan Adams

Evan Phillips Website
Evan Phillips Facebook
Evan Phillips Bandcamp
– Reviewed by Christopher Anthony
Latest posts by Christopher Anthony
(see all)