Lost Boy?


Canned
Papercup Music [2015]




Fire Note Says: Lost Boy? are a dream come true for 90's indie rock fans. Bits and pieces of your favorite bands pasted together in a catchy and fun album.
Album Review: I have been listening to Davey Jones' project, Lost Boy? for the last year or so. They have a few self-released LPs and EPs and finally got an official release with their last EP, Wasted in 2014. Canned, is being touted as their debut LP.
When I saw the track listing for Canned, I saw that I had already heard/owned seven of the tracks. Once I heard the newest versions, my fears of hearing a rehash of tracks I already knew, were alleviated. To put it in context, it is kind of like hearing Guided by Voices play "Buzzards and Dreadful Crows" on Suitcase and then hearing it on Bee Thousand. A similar, but altogether different track and listening experience.
Canned starts with the bouncy and ultra-catchy, "Hollywood." Davey Jones vocal delivery is a bit like listening to the distorted vocals of Gene Ween mixed with Daniel Johnston. May be a detractor for some, but for me, it is endearing and part of the charm of the band.
Track two hits you with "USA", a buzzy and drug woozy track that would be welcomed on Ween's The Pod. "Chew" is a light-hearted and briskly paced track. "Car Wash" may be the album standout. So catchy and fun to listen to…Lost Boy? are really good at crafting hook-laden indie pop.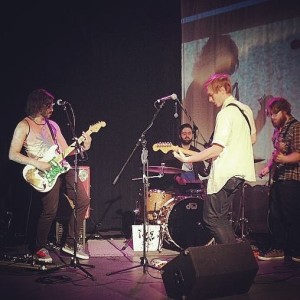 "Taste Butter" continues the great vibe. Fast paced and vibrant. The melodic "About the Future" slows things down a tad, but Davey Jones has crafted another pop gem with this track.
"Fuck This Century" and "Hemorrhage" end the album on a very high note; Bueno frontman Luke Chiaruttini provides the vocals for both tracks and the dynamic of the album changes into a Parquet Courts-ish feel. Placing both these tracks at the end of the album makes it seem a bit tacked on. It may behoove Lost Boy? to employ this approach throughout the flow of the record. Kind of like how Guided By Voices switches between Robert Pollard and Tobin Sprout. But, "Hemorrhage" is so catchy; I could care less if Gilbert Godfrey was singing.
Overall, Canned is a very satisfying LP for me. It reminds me of 90's indie/lo-fi rock. I love the vocals and the music is just so insanely catchy. It is a perfect summer album. Have some fun with it, not everything in life has to be so serious.
Key Tracks: "Car Wash" / "Taste Butter" / "Hemorrhage"
Artists With Similar Fire: Ween / Kleenex Girl Wonder / Quasi

Lost Boy? Website
Lost Boy? Facebook
Papercup Music
– Reviewed by Daniel Taylor
Latest posts by Daniel Taylor
(see all)