King Gizzard & The Lizard Wizard


Quarters
Castle Face Records [2015]



Fire Note Says: Quarters is an intriguing and rewarding long player.
Album Review: So here is a crazy idea. How about make a record with only 4 tracks that each runs a total time of 10 minutes and 10 seconds and then name it Quarters?! Oh yeah – that is exactly what our favorite Aussie psychedelic group King Gizzard & The Lizard Wizard have just pulled off. Quarters is a psychedelic rock opus that incorporates jazz, psychedelic, garage, surf and plain rock into 4 well-crafted movements that keep you guessing.
The first track, "The River," sets you up for the ride as it immediately jumps into the line "Once you're in the zone / The river flows down like a full stone." It keeps this steady pulse for about the first three minutes then it shifts into a much more caffeinated jumping guitar rhythm before floating back into the intro psychedelic 70's groove at the six minute mark. When you hit the eight minute tick, "The River" shifts back to a lower gear and then ends instrumentally with a stylish guitar out front dabbling off into space. "Down…Down…Down" as they fade away singing is exactly right and what a cool track it is.
Next up is "Infinite Rise," which is the most challenging track on the record as it emphasizes each vocal line with a questioning tone that waves along to the groove that then hits you with sirens going off in the backdrop at the 2:40 mark. The song builds a quick momentum burst before settling back down into the main structure that then finds a baby crying in its backdrop. It is a track that has two universes going on in one continual line which keeps your right ear and left ear occupied listening for different things. The backdrop sounds also include money clicking, laughing and rocket propulsion that puts "Infinite Rise" on its edge and could soundtrack any scene from Willy Wonka!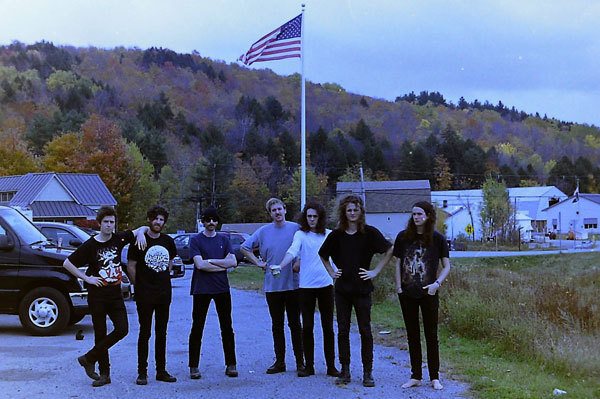 King Gizzard showcases some Led Zeppelin roots on "God Is In The Rhythm" from the beginning Robert Plant like falsetto and its structure that you could even compare some to Houses of the Holy's "D'yer Mak'er" and "No Quarter" if they were blended. Probably just a coincidence I pulled together but you could snag inspiration from far worse places. The rest of the song plays like a classic surf track moving over gentle waves.
"Lonely Steel Sheet Flyer" continues the wavy vibe and blurs the slow guitar twirls with a psychedelic brush and slightly hazy vocals. The song is so isolating and backed up by lyrics like "Lover it's all me wrapped in a steel sheet flyer / Look in the sky see, inside a jet stream goodbye." It clearly highlights the bands indie exposure and when you are hailing from Australia I am sure those flights and long distance relationships get harder and harder. This track captures that feeling with such an embracing chord that it sounds like a lullaby and in a way is a soothing statement to all. The track is a perfect closer to major artistic statement that works well for King Gizzard.
King Gizzard & The Lizard Wizard swing for the fences here on Quarters and exceeded expectations. This record should really be one listen and done but building on how Side A of last year's fantastic record, I'm In Your Mind Fuzz flowed, Quarters offers more and more with replays. It can not only be a singular focus but a record that can be a backdrop and that's OK, as I like the bit of weird that King Gizzard bring to the table. Let's face it – the music's "out there" experience matches the band name but in Quarters case I wouldn't have it any other way, as this is just another step and experiment for a band that continues to have impressive releases – I hope they keep them coming!
Key Tracks: "The River" / "Lonely Steel Sheet Flyer"
Artists With Similar Fire: Tame Impala / Led Zeppelin / Pond

King Gizzard & The Lizard Wizard Website
King Gizzard & The Lizard Wizard Facebook
Castle Face Records
– Reviewed by Christopher Anthony
Latest posts by Christopher Anthony
(see all)