Swiftumz


Everybody Loves Chris
Melters [2015]



Fire Note Says: Swiftumz offers up a diverse record that will surprise you with each turn.
Album Review: There is something to be said for doing your own thing. Chris McVicker, a.k.a. Swiftumz, has been doing just that since his 2011 debut full length Don't Trip. After releasing a couple singles over the past several years, Swiftumz now returns with the sophomore album Everybody Loves Chris which is filled with fuzz-drenched pop that will grab your attention. The album is bigger, better and now resides in a genre that has much more respect compared to 2011.
Everybody Loves Chris attracts attention because it is a true mix of styles embedded under the fuzz rock umbrella. You get one of the catchiest numbers on the record in "Creepy Eyed Girls," that has a nice calm jangle with some distortion and then a killer rock ending. It shows some of Swiftumz's capabilities in just one song but really only scratches the surface of McVicker's identity. There is the really hard driving rock on "Taste The Gray," which reminds me of the new Wand record, as it washes over the vocals in a cool indie way. The short 1:26 noise track, "Travels With Charlie," just pops up on the second half of the album and at first seems slightly weird but then actually ties the before and after track together. On "Ladybird," Swiftumz pulls out yet another move as its laid back honkey tonk guitar that hits midpoint is both surprising and refreshing. If that wasn't enough diversity for you the closing song, "Forever," is a slow moody ballad that would fit nicely on a Flaming Lips record.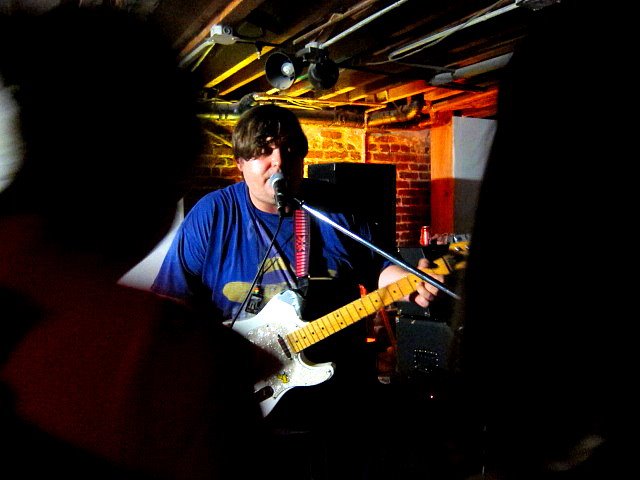 Swiftumz continues to make you guess on Everybody Loves Chris which I liked. It would be easy to just peg this album as another distorted pop record from the outside looking in but once you peel back its layers you find Chris has a lot going on. It never gets jumbled or confusing, which is good to point out as Everybody Loves Chris gives you an honest look at McVicker's freewheeling studio process. The album naturally progresses through its changes which makes each transition easy to absorb instead of shocking. If you need a record to stay in its swim lane, Swiftumz might challenge you a bit. If you are in for a good time and like some good old indie flare – Everybody Loves Chris is right up your alley!
Key Tracks: "Creepy Eyed Girls" / "Taste The Gray" / "Ladybird"
Artists With Similar Fire: Ty Segall / Wavves / Michael Rault

Swiftumz Facebook
Melters Website
– Reviewed by Christopher Anthony
Latest posts by Christopher Anthony
(see all)