My Morning Jacket


The Waterfall
Capitol Records [2015]



Fire Note Says: My Morning Jacket shocks and awes on The Waterfall.
Album Review: My Morning Jacket has returned from a four-year studio hiatus with their seventh studio album, The Waterfall. The new album serves to strengthen the band's identity as an eclectic rock band with a heavy psychedelic influence. Having seen My Morning Jacket live in support of their last album, their sound has been clearly heading in this direction. The Waterfall solidifies My Morning Jacket's evolution to jam band with heavy rock tendencies. How you feel about My Morning Jacket's emphasis on this specific characteristic will determine your impression of The Waterfall.
My Morning Jacket the Southern rock band is one of my favorite bands around. They consistently put out great material that is easy to under-appreciate. I can't think of an MMJ album that I haven't enjoyed a lot. Such consistency is truly rare. The Waterfall gets off to a great start with opener "Believe (Nobody Knows)." Jim James voice is clear and pristine as the band eventually joins him. The chorus does more than swell – it washes over you as a waterfall should. The impressionistic lyrics go hand in hand with the sonic scape of the song.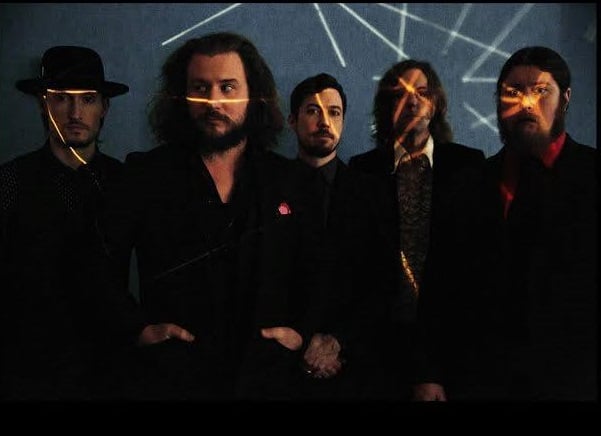 "Big Decisions" is another example of MMJ hitting on all the right notes. Its lyrics are refreshing in their directness – Pastor Jim isn't relying on New Age aphorisms here. It hits hard as does the message. When MMJ nails the chorus of "Big Decisions" it's reminiscent of the harmonies of Fleet Foxes. I also enjoyed the way James intoned the word can't – his Kentucky roots shone through in those moments.
My Morning Jacket the jam band makes other parts of the album less accessible. Atmospheric and often directionless, I found myself gladly along for the ride when listening to the album's remaining tracks. With the heights that MMJ reached on the highlights on The Waterfall it's somewhat disappointing to see the band indulge that psychedelic part of them. Such is the paradox of MMJ; it is probably impossible for them to hit those highs without satisfying the band's other needs. Rather than be frustrated that not everything is immediately spectacular, I'll appreciate the transcendent moments on The Waterfall.
Key Tracks: "Believe (Nobody Knows)" / "Big Decisions" / "Compound Fracture"
Artists With Similar Fire: Fleet Foxes / Drive-By Truckers / Ryan Adams
My Morning Jacket Website
My Morning Jacket Facebook
Capitol Records
-Reviewed by Matthew Heiner
Latest posts by Matthew Heiner
(see all)