IZZ


Everlasting Instant
Self-Released [2015]



Fire Note Says: IZZ continue making progressive dinner party music.
Album Review: I imagine the place settings and flatware laid out just so. Fleshly cut flowers in crystal adorn the dining room table. The guests, carefully selected, have arrived and look splendid. They drove here in BMW's and Audi's. The menu crafted and prepared with considerable fuss. But one last detail has been neglected: what music to play? Can't leave that kind of thing to the randomness of Pandora. It has to be a relatively obscure band, to be sure. Nothing too edgy, noisy or instrusive. At the same time it must rise (a bit) above the pleasant conversations being had. Let me submit IZZ as your solution. Okay, so maybe I'm being a wee bit harsh as IZZ is a band I like and respect a lot. That said, I cannot help feeling this album is their most mature statement – for better or worse.
Part of that slight disappointment comes from the fact that this is part three of a trilogy of LP's (and their seventh overall) and may be the weakest of them. Part One, The Darkened Room, is my personal favorite IZZ record and Part Two, 2012's Crush Of Night, was almost its equal and featured Gentle Giant guitarist Gary Green and that alone made it worth the price of admission. With Everlasting Instant IZZ has created a fine song cycle that revisits some themes from the previous two albums. There are some super strong moments to be had including the stellar opening trck "Own The Mystery." It's a great start that belies this record's main issue: that dinner party vibe that I can't get away from. There is a distinct lack of energy at times that is (for IZZ at least) uncharacteristic. The female vocals on "If It's True" courtesy of Laura Meade only confirm this with a jazzy piano and slow tempo. Amarie Byrnes sings lead on closer "Like A Straight Line" and it too sounds like it was beamed in from another era where the best music was found in smoky bar rooms with tiny stages and horrible lighting.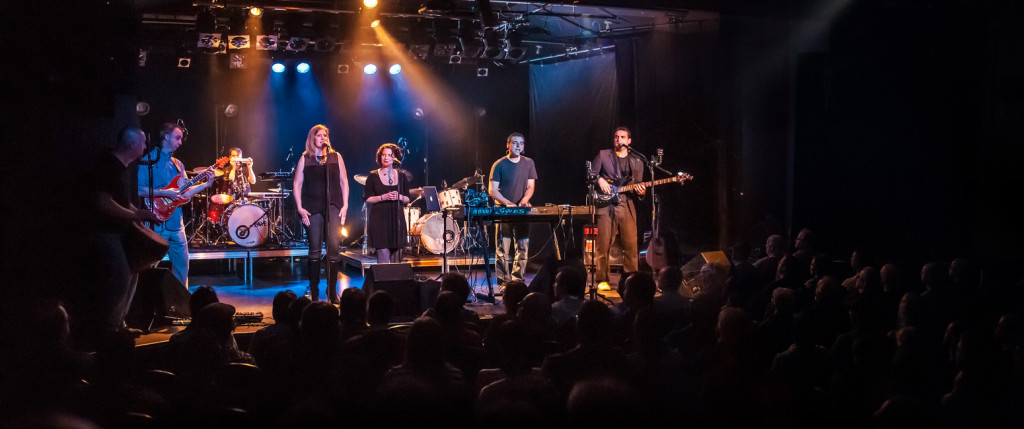 There are some truly gorgeous melodies on many of these songs and they do three-part harmony as well as anyone – just check out the title track for proof. And the last minute and a half of that tune may be the best thing they've ever done. I do prefer when the Galgano brothers (Tom and John) sing. Songs like "Illuminata" would be way too pedestrian with a female voice throughout. The acoustic guitar and piano on this track deserve mention as there is no doubt this band can play at a very high level. By far the most effective track is "Can't Feel The Earth, Part IV." The syncopated rhythms and 70's symphonic rock instrumentation are right there for all to see and hear and this is what I want from IZZ. Too often they let jazz and latin pretenses interfere with what they do best.
It must be difficult not being able to do music full-time. Progressive rock has such a limited audience that all members of IZZ have day jobs, I'm sure. That they can continue cranking out records of beauty, complexity and virtuosity is a real testiment to their commitment to the cause. Even though this may not be the apex of their discography it is still to be admired. That they've grown up (and mellowed out) is to be expected I suppose. At the risk of sounding like Captain Obvious: I'd still rather spend time with this worthy New York band than 99% of the artists currently residing on the Billboard charts.
Key Tracks: "Own The Mystery" / "Can't Feel The Earth, Part IV" / "Illuminata"
Artists With Similar Fire: White Willow / Shadow Circus / Sanguine Hum

IZZ Website
IZZ Facebook
-Reviewed by Scot Lade
Latest posts by Scot Lade
(see all)