Ex-Cult


Cigarette Machine EP
Castle Face Records [2015]




Fire Note Says: Ex-Cult delivers an excellent, adrenaline-filled punk rock EP.
Album Review: I have to say I am quite impressed with Memphis-based punk band, Ex-Cult. Cigarette Machine is a lean and mean EP filled with punk rock rage reminiscent of 80's hardcore. They have a solid and robust sound rounded out with intense vocals that fit perfectly within their blend of Cro-Mags meets Black Flag meets The Exploited era hardcore punk.
"Clinical Study" kicks the EP off with a furious bang. It is a briskly paced track with a nasty guitar riff and pounding drums. Track two, "Cigarette Machine" is more of the same. If you entered a mosh pit during "Clinical Study," you are staying for "Cigarette Machine." Fair warning, you are going to be bruised. The track clocks in at almost six minutes; that is a long time to be dodging elbows and Doc Martens.
"Rats in The Gas Tank" spends half the track wallowing in noise and reverb before it slaps you with savage light-speed punk mayhem finale and carries you right into "Meda House Company" for a solid punk rock track.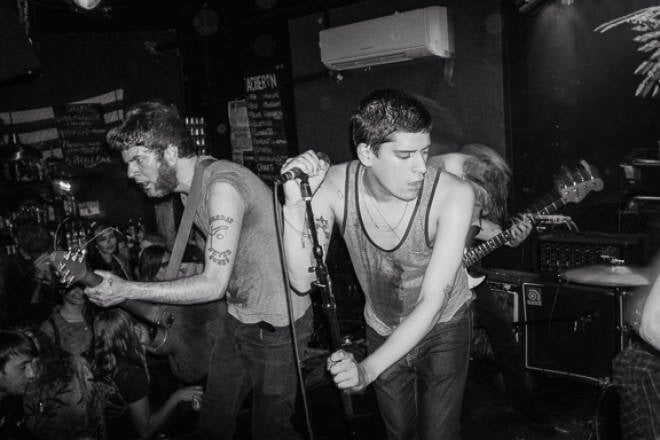 The final two tracks are as equally strong as the opening assault. "Dripping Mouth" has a post punk aura, boasting a sound that would be more affiliated with Joy Division than the 80's hardcore staples. "Your Mask" is an excellent closer. Swirling and dizzying guitars layered against each other with a driving rhythm and percussion. Sounds like the boys from Memphis may have heard "Half a Canyon" off Pavement's Wowee Zowee a time or two and that is a good thing in my book. It gives the EP diversity.
Ex-Cult won me over with this six-track EP. Their energy and zest for a generation of punk that I adored as a young music fan is admirable and their execution of the genre is remarkable. It creates an infectious and head banging listen. Go out and get Cigarette Machine.
Key Tracks: "Clinical Study Dripping Mouth" / "Your Mask"
Artists With Similar Fire: Cro-Mags / The Exploited / Black Flag

Ex-Cult Facebook
Castle Face Records
– Reviewed by Daniel Taylor
Latest posts by Daniel Taylor
(see all)