Waxahatchee


Ivy Tripp
Merge Records [2015]




Fire Note Says: Indie stardom hasn't diminished Katie Crutchfield's songwriting flame.
Album Review: It's a tricky thing – working on the follow-up to your breakout LP. Many musicians have wilted under the pressure of increased critical scrutiny and fan expectations. Do you return with more of the same or do you totally flip the script and "grow" as an artist? Katie Crutchfield, better known by the nom de plume Waxahatchee, has opted for a third way by splitting the difference. Sure, once again using her sister Allison's backing bandmates from Swearin' (Keith Spencer and Kyle Gilbride) insures that Ivy Tripp sounds a lot like its mighty predecessor Cerulean Salt but things are indeed different in 2015. First of all, Katie is an underground star now. She's toured with Tegan & Sara. She's also now signed to Merge, home to indie royalty Arcade Fire and Neutral Milk Hotel. She's not going to sneak up on anyone this time around. So how does she hold up on her third album? Not all too badly, as it turns out.
That there is an increased presence of keyboards shouldn't be a shock. After all, it is the go to move. The conscious decision to open with true outlier track "Breathless" is less ominous than it seems. It's her voice and a four note synthesizer riff for most of the song. When she sings "I'm not trying to have it all" it's reassuring. This is still Waxahatchee doing what she does best. And then she launches into "Under A Rock" and all is right with the world. The early Liz Phair meets Robert Pollard garage grunge is her wheelhouse and she knows it. Singing to some idiot boyfriend "I know how to break inside/The brick house you built around your cranium/You wear it like a crown" she quickly realizes it's hardly worth the effort: "Your ravenous, insatiable/Appetite for the expendable/Will leave you just as hollow as your requiem." There's a lot of this kind of personal but vague detailing in her songs. Everything is distant enough that I figure part of her appeal lies in the fact that this isn't chick rock at all. These are words that a guy could sing as well. The emotions do feel universal and yet perfectly hers and hers alone. "Poison" is the song where her GbV influence is most obvious and, as a result, is my favorite song on the album. Taking the rhythm of "Motor Away" she turns it into as powerful as two minute song you're likely to find this side of Alien Lanes.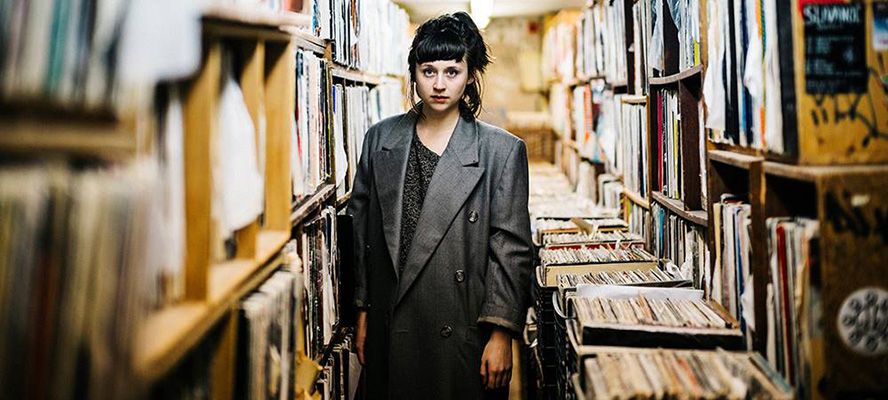 Where Ivy Tripp "trips" up is with tracks like "La Loose" which revolves around a hackneyed Casio keyboard beat and "Stale By Noon" and its dead-ringer for the late, great Headlights electric piano. I swear it sounds exactly like the title track from Some Racing, Some Stopping but given that hardly anybody remembers that Polyvinyl act (or noticed when they broke up) I don't think it'll be a problem. Entirely more likeable is the first single "Air." It appropriates the keyboards from previous tracks but instead of surrendering to them here they are integrated into the whole in a very satisfying way. This could be the transition song that points the way to future records – or perhaps that's wishful thinking. The equivocation in lines like "You were patiently giving me everything that I will never need" really speak to why Crutchfield's lyrics are the star of the show. I find myself leaning in to parse out every word, every image. For a jaded elitist like me to admit that must mean something. And just when you thought things were getting a tad bit predictable "Less Than" destroys that illusion with the coolest outro I've heard in quite a while.
There are plenty of moments on Ivy Tripp that almost make me believe that this is a better record than Cerulean Salt but ultimately it is not. Maybe I just want it to be as good as the record I considered the best LP of 2013. Personal preference versus professional critique. My vision is not 20/20 in regards to that album as an invisible force field prevented me from hitting the eject button on my CD player for months on end. It may be that looking back twenty years from now that Waxahatchee's career arc peaked there and if that's true it wouldn't be tragic. As long as she keeps writing songs this good I look forward to the journey.
Key Tracks: "Under A Rock" / "Poison" / "Air"
Artists With Similar Fire: Juliana Hatfield / Elliott Smith / Liz Phair

Waxahatchee Website
Waxahatchee Facebook
Merge Records
-Reviewed by Scot Lade
Latest posts by Scot Lade
(see all)