The King Khan & BBQ Show


Bad News Boys
In The Red Records [2015]



Fire Note Says: King Khan & BBQ return with another fun and rockin' set of songs.
Album Review: We last heard from King Khan on the 2013 Merge Records release Idle No More with the Shrines. It was one of most focused releases we have heard from Khan so getting back to the duo work of Mark "BBQ" Sultan and Arish Ahmad "King" Khan's BBQ Show output, we definitely had some anticipation to hear if Idle No More influenced the new long player Bad News Boys. The answer is both yes and no.
Right from the opening song, "Alone Again," I feel a bigger rock sound coming from BBQ Show, as it is a soulful old school garage rocker that features plenty of out front singing that includes the chorus. It is a good start to a record that somewhat takes things serious but has juvenile moments that will remind you of their earlier work. The explicit latent, just over a minute, "D.F.O." (diarrhea fuck off) hits fast and hard with its screaming and punk rock outbreak. It is a fun shake up that keeps Bad News Boys light, funny and different. "Snackin' After Midnight" is another song that is just goofy, in a good way, with their duel vocals that are sung like drunken hobos. The groove is fantastic and even though the song is ridiculous, you don't care when the soul singing and doo-whop moment hits at the mid-point and keeps your fingers snapping. Other songs, such as "Buy Bye Bhai" are modeled after an early blues-R&B sound that keeps you swaying and really showcases the talent of King Khan & BBQ Show. It shows another side of the band that will keep you coming back for more.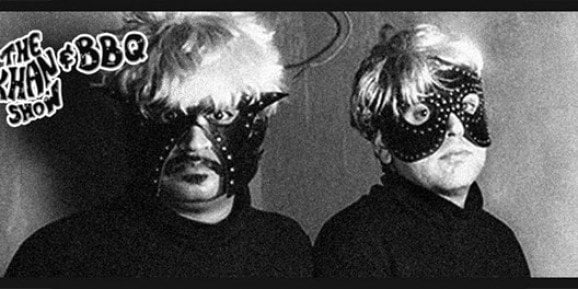 Because of their love for different styles and genres, Bad News Boys is a bit all over the place when it comes to flow but the energy bonds the tracks together. It is a record that has fun but not at the cost of lowering the listeners experience. The veterans of the garage scene show why they have been in the business so long and after six years without this duo, Bad News Boys is a nice welcome back. From the upbeat guitar intensity on "Killing The Wolfman" (complete with an ending howl) to the looping punk crazy ending "Zen Machines" and the marching beat on "Kiss My Sister's Fist", King Khan & BBQ put on a very good show, that I honestly hope continues and yields more sooner than later!
Key Tracks: "Buy Bye Bhai" / "Killing The Wolfman" / "Alone Again"
Artists With Similar Fire: Frankie And The Witch Fingers / Jay Reatard / Circle Jerks

The King Khan & BBQ Show Facebook
In The Red Records
– Reviewed by Christopher Anthony
Latest posts by Christopher Anthony
(see all)