Madonna


Rebel Heart
Boy Toy / Interscope Records [2015]



Fire Note Says: Rebel Heart is a pretty safe and predictable offering.
Album Review: We have to give Madonna her due. In 1983, it was easy to assume that she was just one more "Lucky Star," a flash in the pan, one and done. Dance/disco acts rarely have had commercial staying power, and like most wave/dance acts (anybody remember The Thompson Twins?), it was beyond anyone's imagination that she'd still be making relevant music into her 50's. But it's never been just about the music with Madonna, it's always been a mix of sexy spectacle, a scandalous use of spiritual imagery, extravagant showmanship, and timely reinventions.
Whether it was her coffee-table book filled with provocative nudity, "Sex," her consistently bad movies (see "Swept Away"?), her ability to create a firestorm of criticism over her use of religious icons mix with suggestive sexuality, or the keen sense of which hot producer to tap, as in the choice of William Orbit for her great 1998 comeback album, Ray of Light, Madonna Ciccone has always managed to outlive her "past due" date. But the reason, Madonna has sold 300 million records world-wide, making her the best selling female recording artist of all time, is her songs, which often provide great insight into our cultural zeitgeist, for good and for ill. There are too many hits to name them all, but "Like a Virgin," "Vogue," "Papa Don't Preach," "Material Girl," "Like a Prayer," well, they capture a moment in time in Western Civilization like few artists have been able to match.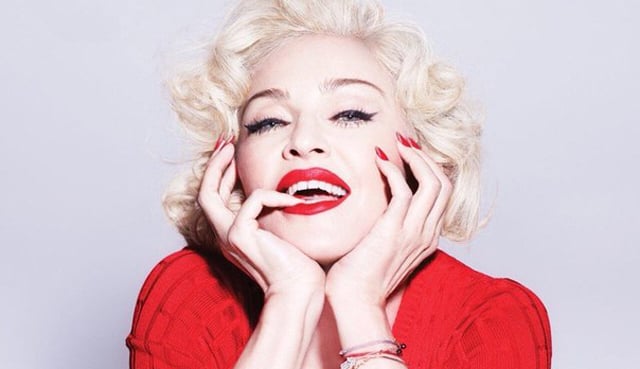 All that said, Rebel Heart is a pretty safe and predictable offering. It's all here, as anticipated. Party anthems: "Devil Pray," "Bitch I'm Madonna" (featuring Nicki Minaj) and "Veni Vidi Vici" (featuring Nas). Declarations of love and liberation: "Living for Love," "Iconic," and "Inside Out." Songs of heartbreak and martyrdom: "Ghosttown," "HeartBreakCity," "Unapologetic Bitch," "Joan of Arc," and "Rebel Heart." And of course, plenty of "S.E.X.," and suggestive language: "Body Shop," "Holy Water," "Best Night."
The problem is that we've been here before. There's a bit of reggae here, a bit of techno or house there, but the melodies are too familiar, the noisy dance-floor tricks come too often from the common domain. Even though she's surrounded herself with a host of hot producers and supportive songwriters, on her 13th album we find all we've come to expect from Madonna, but little that's altogether new.
Key Tracks: "Living for Love" / "Bitch I'm Madonna" / "Holy Water"
Artists With Similar Fire: Britney Spears / Christina Aguilera / Nicki Minaj
Madonna Website
Madonna Facebook
Interscope Records
– Reviewed by Brian Q. Newcomb
Latest posts by Brian Q. Newcomb
(see all)