The Black Ryder


The Door Behind The Door
The Anti-Machine Machine [2015]



Fire Note Says: The Black Ryder applies new textures to vivid and cathartic philosophies.
Album Review: The Black Ryder's first LP Buy The Ticket Take The Ride sounds like an easy LP to love—but only if you're not Pitchfork. Rolling Stone included Buy The Ticket, Take The Ride in its "50 Best Albums of the year" in 2009, saying "the sprawling, slow-burning psych-rock paints creeping moods with layer upon layer of droney, blissed-out guitars and ethereal vocals…" Almost 6 years later The Black Ryder's sophomore LP, The Door Behind The Door is now upon us. For this release the Australian duo—Aimee Nash and Scott Von Ryper (The Black Ryder)—have decided to take a deeper personal approach to constructing and releasing The Door Behind The Door.
To quote Nash directly, "We have a very specific vision for what it is we want to do here." As The Door Behind The Door unfolds, its a point that's hard to argue. Songs such as "The Going Up Was Worth The Coming Down" and "Throwing Stones" come across as heartfelt, beautiful, and tender, even as the latter slowly unfolds in the style of "She Talks to Angels." "Let Me Be Your Light" and "Santaria" have Nash and Von Ryper doing their best Kevin Shields and Bilinda Butcher impressions. When they're not going after the sounds of shoegaze heroes, songs such as "All That We Are" and "Seventh Moon" take some influence from nighttime highway soundtrackers A Shoreline Dream.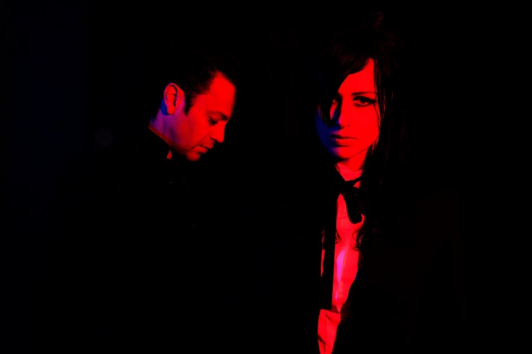 What will really make or break the listeners experience is the length of the songs. While it's pretty much par for the course to get lost in a textured, ethereal, "epic" shoegaze album, the final track, "Le Dernier Sommeil (The Final Sleep)," might try to take that to far. The track runs and swells like an uninteresting "There WIll Be Blood" song, and by the time its 12:12 running time concludes The Door Behind The Door has coasted to a faux-dramatic, anti-climatic fizzle. The beginning and ending of The Black Ryder's Door Behind The Door flaw an album that can be—as I previously noted—tender, beautiful, and heartfelt. The DIY approach between Nash and Von Ryper succeed more that it fails, but its sometimes overblown, insert Paul Thomas Anderson/Stanley Kurbrik soundtrack here nature can be a distraction. Once you feel the sincerity, though, The Door Behind The Door gleams like a star filled sky.
Key Tracks: "The Going Up Was Worth The Coming Down" / "Let Me Be Your Light" / "Santaria"
Artists With Similar Fire: My Bloody Valentine / A Shoreline Dream / The Jesus and Mary Chain

The Black Ryder Website
The Black Ryder Facebook
-Reviewed by Christopher Tahy
Latest posts by Christopher Tahy
(see all)