The Juliana Hatfield Three


Whatever, My Love
American Laundromat Records [2015]



Fire Note Says: The Juliana Hatfield Three return to the indie scene after 22 years.
Album Review: "There is history in this place" is the first line from Sebadoh's "Skull" which is a track from the same era when The Juliana Hatfield Three were last putting out records. The line also describes an accurate snapshot of how I feel talking about the talented Hatfield after thirteen solo albums (the last being 2013's Wild Animals), a punkier band in Some Girls, and the work with Nada Surf's Matthew Caws in Minor Alps. With all of that, let's not forget a short reunion of Blake Babies, which I now believe covers the 22 years since she teamed up with drummer Todd Philips, and bassist Dean Fisher on Become What You Are (1993).
That record of course has some of Hatfield's most beloved songs, such as "My Sister" and "Spin The Bottle," so if that same chemistry exists between the three on Whatever, My Love I am all about it. Trying to recreate the early 90's alternative explosion is impossible but it is not hard for The Juliana Hatfield Three to get back into the same mind set. Lead off track "Invisible," is a soft a flowing song with a memorable chorus that sticks with you. Hatfield's vocals are still instantly recognizable and even though the track does not quite have a youthful rock punch to it, the song still works. Other tracks like "Ordinary Guy" and "If Only We Were Dogs" take a very honest and laid back approach as most of the lyrics here are not supposed to be deep and meaningful.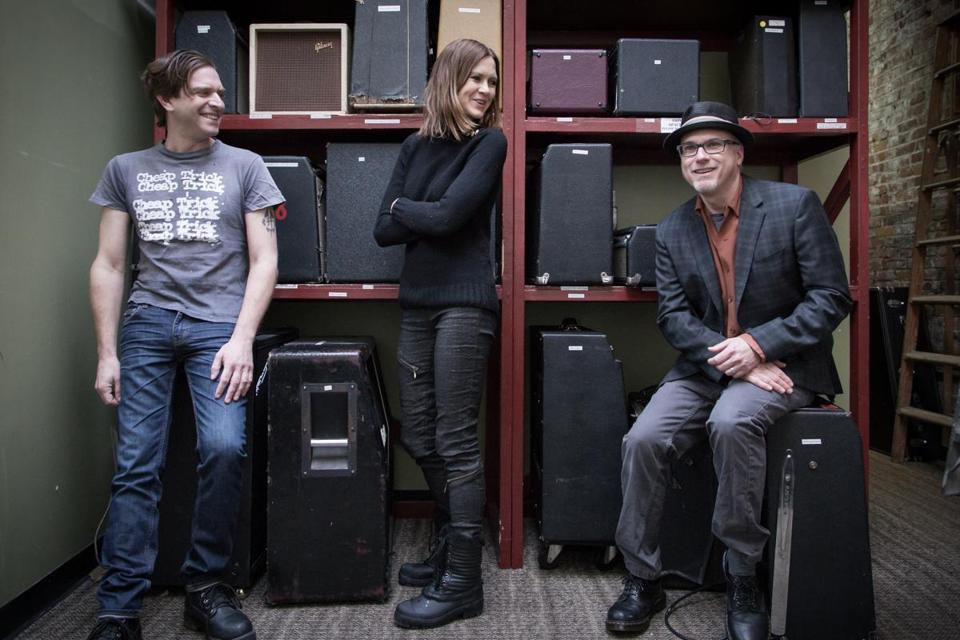 Whatever, My Love should be enjoyed by longtime Hatfield followers as it has all of her trademark elements including bringing back the guitar front and center. The album is also based on making sure the listener remembers the chorus as Hatfield hits you with hook after hook. I respect the attempt here but overall the album still feels like the trio forced several of the "moments" here instead of being a completely cohesive unit. There is also another version of "I Don't Know What To Do With My Hands" included which was a single off the Minor Alps album. It is a good song but I think the version with Caws is better and it was not necessary to repeat here.
I didn't know what to expect stepping into the new Juliana Hatfield Three but there are several really strong tracks on this record. Maybe a long playing EP would have mustered up a higher rating but the effort and heart is here on Whatever, My Love. The band also finishes off the record with the engaging "Parking Lots" that highlights catchy wordplay and a foot tapping rhythm and represents the perfect close. It would be nice to see this trio continue and release at least one more record that finds them all in a room together for one last 90's rock hurrah. If that never takes place, Whatever, My Love still stands on its own and will have you searching in Hatfield's back catalog which is certainly worth your time.
Key Tracks: "Invisible" / "I'm Shy" / "If I Could"
Artists With Similar Fire: Superchunk / Colleen Green / Nada Surf

The Juliana Hatfield Three Website
The Juliana Hatfield Three Facebook
American Laundromat Records
– Reviewed by Christopher Anthony
Latest posts by Christopher Anthony
(see all)