Steven Wilson


Hand. Cannot. Erase.
Kscope Music [2015]




Fire Note Says: Porcupine Tree frontman offers an inspired and introspective solo effort.
Album Review: Steven Wilson is a busy guy. Besides working on his own music he has been on a crusade to remix some of the best-known and most beloved records from the classic era of progressive rock: i.e. – the seventies. So far he has to his credit such seminal albums as Yes' Close To The Edge and Relayer, Jethro Tull's A Passion Play, Gentle Giant's The Power And The Glory and XTC's Drums And Wires. With Porcupine Tree on indefinite hiatus Wilson has thrown himself into numerous collaborations and side projects (No-Man, I.E.M., Bass Communion, Blackfield, to name a few) and yet somehow he has manged to release three terrific solo albums. His last album, The Raven That Refused to Sing, is widely held as the best progressive rock album of the decade and now, on LP #4, he has released perhaps the best record of his storied career.
A friend of mine once described Porcupine Tree as Radiohead meets Rush and, although terribly simplified, that comes close to summarizing the eclectic nature of Wilson's muse. And whereas The Raven was a pure Prog album, Hand.Cannot.Erase. does a better job of allowing diverse interests and influences to gel into a cohesive work of art. It is also more of a solo album with Wilson handling much of the instrumentation. Although his touring band (and Raven cohorts) are back they are featured more as guest musicians. That said, the contributions he gets from guitarist Guthrie Govan (Asia), Nick Beggs (Kajagoogoo) and Adam Holzman (former Miles Davis sideman and son of Elektra Records founder, Jac) are stellar. An early album highlight comes from a surprising source: Dave Gregory (XTC, Big Big Train) shines on 12 string guitar on "3 Years Older." His daft touch is, as always, gorgeous. Another outsider to make an immediate impact is Israeli Idol winner Ninet Tayeb. Her haunting voice fits perfectly on the mid-album statement piece "Routine." And I would be remiss not to mention the legendary Dave Stewart (Hatfield And The North, Egg) and his choir arrangements. In other words it's quite a cast.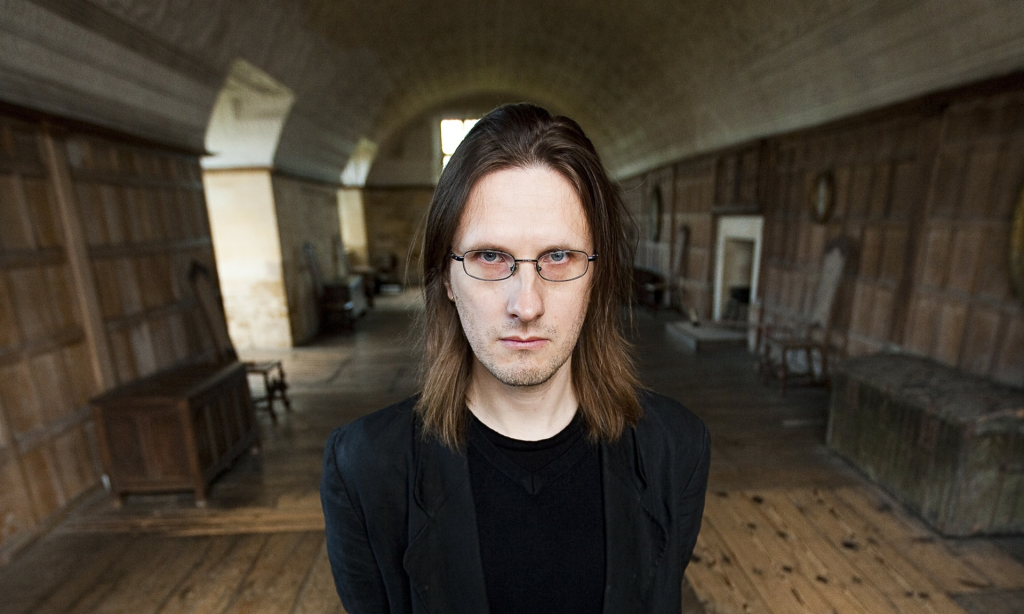 Essentially, the record tells the story of Joyce Carol Vincent – a young woman found dead in her London flat after three years missing. Wilson tells the fictionalized account of her life in the first person. The tale of loneliness in an urban setting has been told before but it is riveting. From the perspective of a child growing up insecure to a grown woman doing mundane chores ("Keep washing, keep scrubbing/Long until the dark comes to bruise the sky") Wilson has never been in finer lyrical form. And hearing Dead Can Dance and This Mortal Coil name-dropped on "Perfect Life" is pretty cool. So the album runs the gamut from the pure pop of the title track to Pink Floyd gloominess (see "Ancestral") and none of it feels forced or out of place. There are programmed drums, loops and samples, heavy metal guitars, achingly beatiful piano phrases, jazz fusion breaks, ominous mellotron chords, borrowed melodies from classic rock staples, you name it. And it all works.
Near the end of the record, on "Happy Returns," Wilson's sings "Hey brother/I feel like I'm living in parentheses" and it sets you up for the final words sung on the album: "I'm feeling kind of drowsy now/So I'll finish this tomorrow" and, as we know from the story, that isn't going to happen. One of Wilson's greatest strengths as an artist is his ability to take the familiar (a chord progression, melody or emotion) and fashion it into something new and unique. Nothing on Hand.Cannot.Erase. is likely to elevate him into mainstrean acceptance and that is really a shame. If there is anyone out there who could lead a true Prog revival in a commercial sense it would be Wilson. The fact that it probably won't happen is almost as tragic as the story he's telling on this excellent, well-produced, altogether superior effort.
Key Tracks: "Routine" / "3 Years Older" / "Ancestral"
Artists With Similar Fire: Gazpacho / The Pineapple Thief / Anathema

Steven Wilson Website
Steven Wilson Facebook
Kscope Music
-Reviewed by Scot Lade
Latest posts by Scot Lade
(see all)