Quarterbacks


Quarterbacks
Team Love Records [2015]



Fire Note Says: Quarterbacks expand on fun self-titled full length.
Album Review: Quarterbacks has yet another short and sweet release. Their self-titled album is the longest yet, with 19 tracks. The album only runs 22 minutes but somehow they manage to make every song jam-packed with memories, people, and places.
The band started in upstate New York, in the college town of New Paltz. The sweet songs lived in smelly basements, and house shows. Originally, the band was just Dean Engle, a snare drum, and a guitar.
The band soon formed to be the twee punk trio, when Max Restaino and Tom Christie joined. Soon after, they started to take off, and released the three Eps; Sportscenter, Loveseat, and Quarterboy, where many of the songs on this album have been seen before.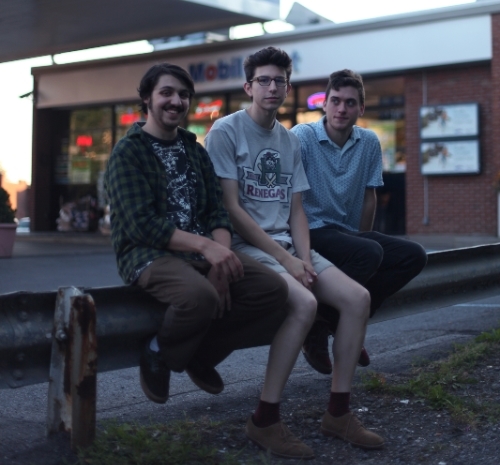 Quarterbacks' newest release differs from their previous work in the sense that the guitar and vocals are sharper. The lyrics remain similar to those in previous songs. However, Engle doesn't sing them in the hushed, whispered tone he did on Quarterboy. At first, I was expecting to hear fuzzy, lo-fi, gentle songs similar to the demos I was familiar with. With that being said; the album took me by surprise. It's fun, it's youthful and to be frank, it makes you want to get up, and dance.
The lyrics and themes of the songs seem to be consistent through all of Quarterbacks' work. Engle sings about his mid-twenties crisis: His love life, or lack thereof. The lyrics are heart breaking, literally. Engle sings "My heart was broken and I barely noticed" on "Not in Luv," Of course, the killer lyrics, "one time I showed you a song / you only thought that it was kind of good / I never played it again" on "Pool," which was one of my favorites from the album.
Everything that Quarterbacks releases has such a nostalgic feel. The album is so focused on love, and the minuscule details of it. Engle concentrates on the past, and ex-lovers. However, The songs are so upbeat, that you almost forget how melancholy the lyrics really are.
Key Tracks: "Pool" / "Center"/ "Sportscenter"
Artists With Similar Fire: Frankie Cosmos / Julia Brown / Radiator Hospital

Quarterbacks Website
Quarterbacks Facebook
Team Love Records
– Reviewed by Sophia Gross