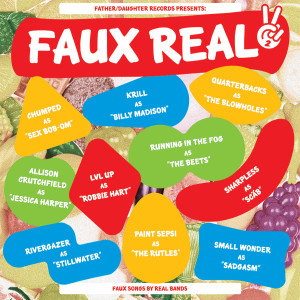 Faux Real II is the second volume in the Faux Real compilation series, originally launched as a Record Store Day exclusive in 2014. After being rejected for this years RSD, Father/Daughter records did the absolute right thing and are releasing it anyway!
Faux Real II follows its predecessor with ten new covers of songs originally made famous by faux musicians. Faux Real II will be available April 28, 2015 on "Fake Grape" vinyl, limited to 500 copies (includes digital download card). It will not be repressed or released digitally.
You can pre-order a copy HERE.


Track Listing
01. Chumped – "Threshold" (Scott Pilgrim vs. the World)
02. Krill – "Billy Madison Victory Song" (Billy Madison)
03. Quarterbacks – "You Painted My World" (The Adventures of Pete & Pete)
04. Running In The Fog – "Killer Tofu" (Doug)
05. Allison Crutchfield (of Swearin') – "Special To Me (Phoenix Audition Song)" (Phantom of the Paradise)
06. LVL UP – "Somebody Kill Me Please" (The Wedding Singer)
07. Sharpless – "Franz Kafka" (Home Movies)
08. Rivergazer – "Fever Dog" (Almost Famous)
09. Paint Sepsi – "I Must Be In Love" (The Rutles)
10. Small Wonder – "Margerine" (The Simpsons)
Latest posts by Christopher Anthony
(see all)