Björk


Vulnicura
One Little Indian Records [2015]



Fire Note Says: Few and far between artists can compare, Björk again makes her own way.
Album Review: In the over 20 years since Björk broke out of the Icelandic band Sugarcubes, she has created a unique body of work, driven by her experimental and eclectic sonic choices, often influenced by techno/electronica, house, and trip-hop music, and special knack for pronouncing the English words of her lyrics with an emphasis on the wrong syllable or with such quirkiness that you rethink the word's original intent. On her 8th studio album, Vulnicura, the avant garde diva–more Laurie Anderson than Annie Lennox–is busily exorcizing the demons of a failed romantic relationship; the title, we are told, means "cure for wounds."
The sparse arrangements are defined by Björk's vocal juxtaposed against a traditional 15 member string ensemble, U Strings, and an occasional Icelandic choir over a bed of electronic beeps, bells and whistles, no doubt courtesy of her co-producers, Venezuelan d.j. Arca (Kanye West), and British ambient artist The Haxan Cloak. The result is a sonic masterwork that remains an acquired taste, as Björk continues to push at the limits of her art, most concerned about creating an honest, intimate and transformative work. There's enough dissonance to balance the melodic beauty, enough joy to equal the sense of despair, but together this does not make for calm "background" music. Vulnicura is not easy listening, it requires engagement and refuses to blend in with the wallpaper.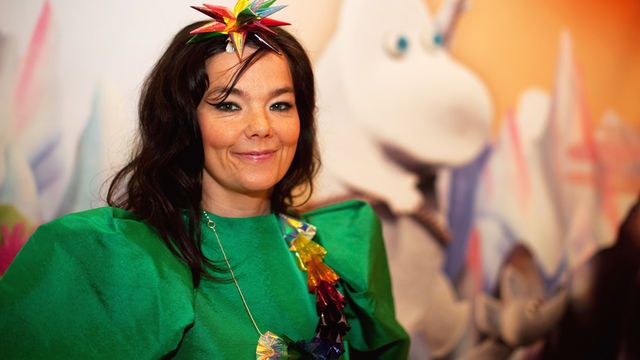 The opening tracks, "Stonemilker," "Lionsong," and "A History of Touches" explore the uncertain inner thoughts as a relationship is coming undone, the questions, self-doubt, the begging for second chances, the uncertainty. As the relationship ends, the protagonist is forced to reckon with dark emotions ("Black Lake"), the sense of failure ("Notget") and an uncertain future ("Family" and "Quicksand"). With "Atom Dance," featuring R&B singer Antony Hegerty, she explores the universality of this brokenhearted experience, and seeks the catharsis of the universal bond expressed in purifying dance. Björk has long worn her emotions on her sleeves, here she's allowing the blood to flow and the wounds to show.
Key Tracks: "Stonemilker" / "Lionsong" / "Atom Dance"
Artists With Similar Fire: Laurie Anderson / Thom Yorke / Purity Ring
Björk Website
Björk Facebook
One Little Indian Records
– Reviewed by Brian Q. Newcomb
Latest posts by Brian Q. Newcomb
(see all)