D'Angelo & The Vanguard


Black Messiah
RCA Records [2014]



Fire Note Says: It has been 14 years but time didn't seem to phase D'Angelo.
Album Review: Arriving 14 years after his much-praised sophomore album, Voodoo, it appears that reports of D'Angelo's demise have been greatly exaggerated. The neo-soul singer first burst on the scene with Brown Sugar in 1995, and was seen as part of a growing movement that included Erykah Badu, Maxwell, and found him singing a duet on "Nothing Even Matters" from The Miseducation of Lauryn Hill, which won the Fugees soloist the Grammy for Album of the Year.
In the intervening years, D'Angelo has hid out from national attention, but faced down challenging demons of his own, the suicide of a close friend, reports of escalating alcohol abuse, arrests, and a related car accident before entering rehab. As far back as 2009, folk began reporting on recording sessions for D'Angelo's follow-up to Voodoo, and the singer showed up on recordings with Common, Snoop Dogg & Dr. Dre, the RH Factor, and Q-Tip, who first broke ground with the legendary hip hop group, A Tribe Called Quest.
Given that Black Messiah is self-produced, one has to believe that after all this time, he's giving us exactly what he hoped to deliver, a bold R&B record with contemporary bona fides, but that plumbs the depth and breadth of that forms musical antecedents: funk, soul, be-bop and traditional jazz, blues.
Sound-wise, think Prince, or Marvin Gaye, or even Gnarls Barkley, all combined and stirred up into a lush sonic blend aided in no small way by Roots/Fallon drummer Questlove and bassist Pino Palladino (The Who, John Mayer Trio), truly a rhythm section from funk heaven. While advertised as "& The Vanguard," D'Angelo pretty much does it all, playing all the keyboards, a host of guitars and sitar, although other guitarist are mentioned in the credits, including Isaiah Sharkey, Jesse Johnson (The Time) and jazz player Spanky Alford.
The record screeches to a start with "Ain't That Easy," which settles into dense swampy mix that belies the tunes sweet gospel harmony chorus, partly because it takes a couple minutes before it surfaces in the mix as the tunes core riff. "1000 Deaths" follows with a long sample of edgy preaching ("I ain't talkin' bout no cracker Christ") over a jazzy groove, but D'Angelo's vocal is buried in the mix, as if to suggest that he has something to say about the violence experienced in the Black community, but it's not safe to say it out loud. "The Charade" exposes the more political focus of D'Angelo's return, in the solemn tone expressed in this lyric: "All we wanted was a chance to talk/'Stead we got outlined in chalk," a song that has been seen a timely response to the events in Ferguson, MO.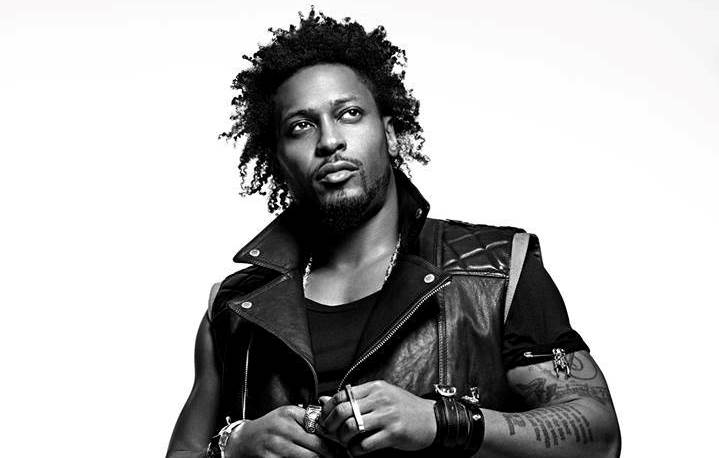 Often D'Angelo's songs sound beguilingly simplistic at the front end, like "Sugah Daddy," which is built on a child-like piano riff but builds slowly to a complicated be-bop jazz harmony chorus and a funky interplay of piano and horn section. The whole thing kind of sneaks up on you, as does the disc's first big single "Really Love," which starts out with strings, a spoken intro in Spanish, and then a beautiful flamenco style guitar and a subtle upright bass line. When the whole thing coalesces around D'Angelo's falsetto vocals, layered with harmonies, it's a thing of beauty, lush and unexpectedly accessible. It's like D'Angelo is careful to only reward perseverance.
Once you get passed the first 5 tracks the songs tend to settle down and become a bit less challenging, more accessible but no less musical. "Back to the Future (Part 1)," one of several melodies that feels like it could have come from Prince, looks at the years passing and the hardships, in a light hearted way acknowledging that some burned bridges make it impossible to "get back to the way it was."
"Till It's Done (Tutu)," one of several lyrics where D'Angelo shares credits with background vocalist Kendra Foster, asks do "do we know what we're fighting for/… do we know where we come from," in a song that appears to call out South African Archbishop Tutu. "Prayer" flirts with a musical rendition of the Lord's Prayer but fails to lift it musically to one's higher consciousness.
"Betray My Heart," rich with jazzy guitar and a bit of scat vocal, offers up the soulful promise, "I will never betray my heart." With songs this alive and spirited, one would hope not, and it'd be nice if he didn't take quite as long next time.
Key Tracks: "Sugah Daddy" / "Really Love" / "Betray My Heart"
Artists With Similar Fire: Prince / Cee Lo Green / The Roots

D'Angelo & The Vanguard Facebook
RCA Records
– Reviewed by Brian Q. Newcomb
Latest posts by Brian Q. Newcomb
(see all)