Belle And Sebastian


Girls In Peacetime Want To Dance
Matador Records [2015]



Fire Note Says: By combining 60's pop hooks with a disco beat Belle And Sebastian have redefined their signature sound!
Album Review: Has it really been almost five years since we last had a new Belle and Sebastian record? Apparently so, and truth be told it kinda feels a little longer because Write About Love found the band treading water a little bit, at least to my ears. With Girls in Peacetime Want to Dance, the band is back and sound energized. The record, bears all of the hallmarks of a classic Belle and Sebastian record, great 60's influenced pop music, but you already expect that for them. What really sets this record apart from the rest of their catalog is the abundance of up-tempo dance songs, not that they have never been up-tempo before, but never to this degree. There is a funky disco vibe that flows through many of the songs, and really seems to have pumped new life into the band.
Much has already been written about "Nobody's Empire", the opening track on the record, and a song that Stuart Murdoch has described as the most personal song he has ever written. Needless to say, it's a great song, and is the most classic sounding Belle and Sebastian song on the album. "Allie" follows that song, and is again pretty run of the mill, which for a band like this, means it's pretty darn good. At this point in the record, after two songs, I'm feeling pretty pumped, these guys are back and are making their best album since Dear Catastrophe Waitress (2003). Then "The Party Line" hits, and I am completely disoriented. This is about as far from their trademark sound as they could get, this is a flat out disco jam! I'm not going to lie, I hated it at first, but after two listens it won me over like Daft Punk did, music this infectious is too good to hate. If this one doesn't get you moving, you should maybe head to the ER, because you may not have a pulse.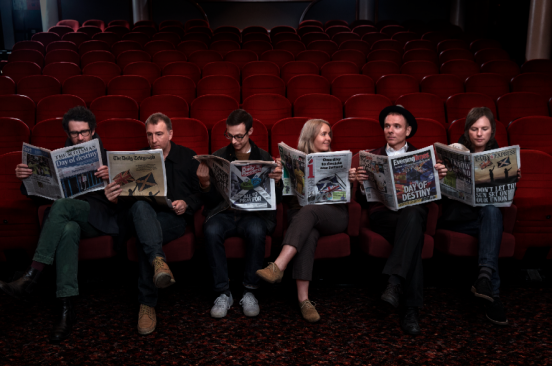 As usual Stuart Murdoch tends to dominate the album with his songs and vocals, but most fan will tell you that it's the other band member's songs that really make the album. Girls in Peacetime Want to Dance is no exception to this. "The Power of Three" and "The Book of You" both feature excellent lead vocals from Sarah Martin, and "Perfect Couple" has a great Stevie Jackson vocal, which is always welcome in my book since he sang lead on my all-time favorite Belle and Sebastian song "Jonathan David". It should also be noted that Dee Dee Penny from Dum Dum Girls contributes co-lead vocals along with Murdoch on "Play for Today" which is another winning extended dance number.
Overall this is a very good record. I wouldn't say it's on par with their best records, but it's certainly better than a number of them. It suffers somewhat from being overlong, it clocks in at over an hour, so it's tough to sit through the whole thing at once, and it's not really that kind of record. Individually there isn't a bad track on the record, but it's length bogs it down just a tad and drops it down from that 4 rating and finds it more like a high 3 ½.
Key Tracks: "Nobody's Empire" / "Perfect Couples" / "The Party Line"
Artists With Similar Fire: Camera Obscura / Yo La Tengo / The Magnetic Fields
Belle And Sebastian Website
Belle And Sebastian Facebook
Matador Records
– Reviewed by Kevin Poindexter
Latest posts by Kevin Poindexter
(see all)