The Smashing Pumpkins


Monuments To An Elegy
Martha's Music/BMG [2014]



Fire Note Says: If you don't over-think it, Monuments to An Elegy has a lot to offer.
Album Review: Billy Corgan is one of those smart rockers, maybe too smart for his own good. One clue you may be dealing with someone who over-thinks their work and place in the world (and I'm not even going to touch Corgan's comment in Independent where he says he and Kurt Cobain "were the top two scribes" of the 90's), is when he names an album more or less full of love songs Monuments to an Elegy. And, that album is part of a larger on-going 44-track project that was announced 5 years earlier called Teargarden by Kaleidyscope. It's like it's not enough to put out a pretty solid collection of fun pop/rock songs, when really that's what this is.
Of course, the Pumpkins of their early 90's heyday—featuring Corgan, guitarist James Iha, bassist D'arcy Wretzky, and drummer Jimmy Chamberlain—is no more, they played their last gig in 2000. Corgan went on to create a new band, Zwan, but that too soon came apart. In 2006, Corgan and Chamberlain resurrected the SP band name, and Jeff Schroeder came on board to play guitar on the '07—08 tour. Eventually Chamberlain went his own way. For this recording, Schroeder and Corgan make up the entire band, with Corgan plying guitar, bass, keys and synths, while Tommy (Motley Crue) Lee plays the live drums.
While Corgan had previously advertised Elegy as "guitars, guitars, guitars and more guitars," the standout sounds that give these tracks their melodic focus come from synths and keys more than guitars. Oh, there's a huge bed of layered guitars—almost metal sounding—underlying many of these songs, but who know that besides paying attention to Boston's rich textures and overdubbed sound, Corgan was also influenced by synth bands from Kraftwerk to Styx or Depeche Mode? But then, who knew Lee would be a good fit on drums?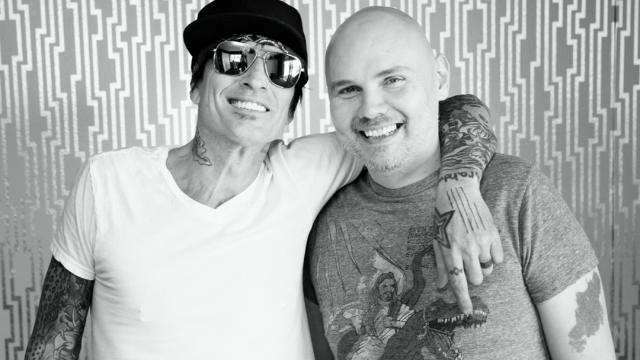 Coming it at 32.5 minutes, Elegy is a modest monument, when you think back to the double album, Mellon Collie and the Infinite Sadness, just 9 tracks and all but one song running less than four minutes. But the use of the word "elegy" is practically a misnomer, as the lyrical tone here is some of Corgan's most positive, if somewhat goofy as per usual. If anything stands out as a lament over someone's death (because words have meanings), it's "Drum + Fife," where the protagonist insists "I will bang this drum till my dying day." As for "Monuments," the closest thing to a title track, the key vocal hooks state, "Lover, you're strange" and "I feel all right tonight, all right, all right." Well, all righty then.
But it's often a mistake to pay attention to Corgan's lyrics, they're often just there to demonstrate his hooks. They're clearly the thing Corgan thinks least about. But, if you don't over-think it, as pure sonic pop/rock fun Monuments to An Elegy has a lot to offer. The opening track is a mini-opera, with a piano intro and a crunchy guitar bed reminiscent of things you've heard Metallica play, add the string-like keys and vocal and you have Corgan doing his best Queen imitation. By the way, the most common lyric is "it goes and goes," but you'll want to remember it's called "Tiberius."
"Being Beige," the disc's first single whose main lyrical hook is "the world's on fire," feels a bit like old school Pumpkin, from the same toolbox that gave us "Disarm" and "Today." And so it goes, these are fun songs to sing along with. As was once said, "history doesn't repeat itself, but it does rhyme." Well, with Monuments to An Elegy, Billy Corgan's Smashing Pumpkins do just that.
Key Tracks: "Tiberius" / "Being Beige" / "Drum + Fife"
Artists With Similar Fire: The White Stripes / My Chemical Romance / Soundgarden

The Smashing Pumpkins Website
The Smashing Pumpkins Facebook
BMG
– Reviewed by Brian Q. Newcomb
Latest posts by Brian Q. Newcomb
(see all)