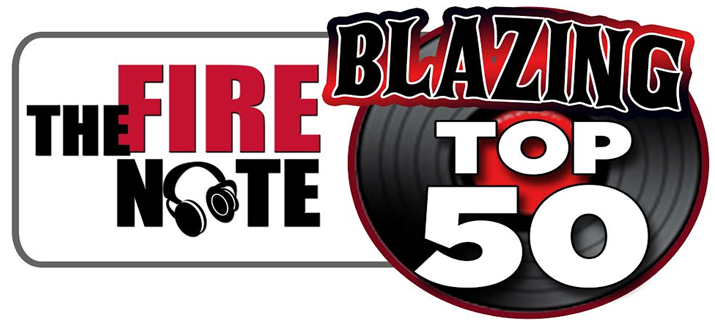 #50

The Safes


Record Heat
Wee Rock Records [2014]

#50 is one of the hardest positions to select because there are plenty of albums that just missed the list. What made Chicago's The Safes stand out is their solid 60's style garage power pop on Record Heat that had us from the first strum. The band is truly under the radar on the DIY label Wee Rock out of Springfield, Missouri. This type of record is the reason The Fire Note exists!

The Safes: Record Heat [Fire Note Review 6/30/14]
#49

Kishi Bashi


Lighght
Joyful Noise Recordings [2014]

Kishi Bashi's sophomore record Lighght (pronounced "Light") challenged your ears this time by going with bigger arrangements, a little 70's prog, repetitive improvisations and several ballads that stuck in your head. Lighght didn't have the innocence of their debut but its bigger moments grew on me with repeat listens and made it one of the more unique listens this year.

Kishi Bashi: Lighght [Fire Note Review 5/16/14]
#48

Shellac


Dude Incredible
Touch And Go Records [2014]

Dude Incredible is filled with the sort of Math/Post Rock that makes Slint fans feel like they have a purpose in life. Shellac didn't reinventing the wheel here, but does what they do best, and they do it better than just about anyone. Steve Albini has been playing this kind of music since the days of Big Black, but there is no question that Shellac is the best vehicle for his challenging songs and they are highlighted on Dude Incredible.

Shellac: Dude Incredible [Fire Note Review 10/13/14]
#47

Flying Lotus


You're Dead!
Warp Records [2014]

For fans of jazz and/or hip hop, Flying Lotus made an interesting and accessible album with You're Dead! This was Flying Lotus' fifth studio album and the first four tracks of the LP consume you with their amazing instrumental jazz-fusion. It is a record that will surprise and impress your ears even if these genres aren't your thing as Flying Lotus takes you on a completely different journey from beginning to end.

Flyng Lotus: You're Dead! [Fire Note Review 12/1/14]
#46

Caribou


Our Love
Merge Records [2014]

Caribou returned after a four year absence with the drop dead gorgeous Our Love. Caribou is still heavily electronic and chill, but Our Love has a cool psychedelic haze enveloped around it. It's a darker record than its predecessor, a heavy meditation about love, without ever really revealing exactly what it is about. Both sonically and texturally, this record is stunning as it packs a heavy emotional punch and kept us on the edge of our seat.

Caribou: Our Love [Fire Note Review 10/8/14]
#45

Meatbodies


Meatbodies
In The Red Records [2014]

Band leader Chad Ubovich is included in the Ty Segall family and Meatbodies self-titled debut rocked out as expected. Meatbodies has just enough distinct moments and characteristics from Chad's other projects that it stood out. Meatbodies is a solid listen that rolls more than sits as it achieves a novel sound with its mid-track genre changes that keeps you guessing. Better with every spin!

Meatbodies: Meatbodies [Fire Note Review 10/16/14]
#44

Lab Partners


Seven Seas
Pravda Records [2014]

Dayton, Ohio's Lab Partners returned with their first record since their 2010 and it completely satisfied with its guitar attack. At 48 minutes and 10 tracks long, there is not a bad moment on Seven Seas. The all five review may have been driven by excitement at the time but the band has definitely returned with a sonic vengeance, and a worthy LP landing at #44!

#43

Damon Albarn


Everyday Robots
Parlophone Records [2014]

Everyday Robots is the first official solo record from Damon Albarn, better known as lead singer for Blur and Gorillaz. It is a remarkable album that gets better the more you listen to it. It's slow and mournful, but it isn't depressing at all, it's a comforting type of melancholia, sort of like The Soft Bulletin, or even Pet Sounds. Sure, it could have used another upbeat song or two to liven up the pacing a bit, but those aspects is why Everyday Robots stands apart from Albarn's other material.

Damon Albarn: Everyday Robots [Fire Note Review 5/8/14]
#42

Ariel Pink


Pom Pom
4AD Records [2014]

Pom Pom is an insanely infectious joyride that seems to take you on a different route each time you listen. It is the kind of record you either love or hate, but will never think "It's Ok". It definitely provokes a strong reaction from the audience, and that's the point. It's Ariel Pink and that's art.

Ariel Pink: Pom Pom [Fire Note Review 11/21/14]
#41

Circus Devils


Escape
Happy Jack Rock Records [2014]

The Circus Devils never make the same album twice. Robert Pollard and the Tobias brothers shift into a calmer gear on Escape and create what might be the best Circus Devils album yet. Call it mellow, call it rainy-day music; however you categorize Escape, it was new territory for Pollard and an entirely successful experiment for the Circus Devils.

Circus Devils: Escape [Fire Note Review 11/10/14]
#40

Jack White


Lazaretto
Third Man/Columbia Records [2014]

Jack White is a man of many talents. He is also hard to pigeon hole with one sound and that was evident on his sophomore solo release Lazaretto. Instead of flaking out with a Blunderbuss/career rehash, White still delivered original rock hooks but also showed that country music runs through his veins. Lazaretto was not the top 10 record we were hoping for but it also sounds better over time and easily still showed up in our list.

Jack White: Lazaretto [Fire Note Review 6/10/14]
#39

Perfect Pussy


Say Yes To Love
Captured Tracks [2014]

When you combine the actual crackle of noise that begins the opening track with one of the most hyped bands in 2014, you have a recipe for an experience. Frontwoman Meredith Graves somewhat indecipherable vocals left you trying to surface for air as Perfect Pussy had no problem absolutely ripping it up for the first 14 minutes of Say Yes To Love. The drone tracks near the end of the record were a challenge but the overall presentation from Perfect Pussy was a win and made them a band to watch!

Perfect Pussy: Say Yes To Love [Fire Note Review 3/20/14]
#38

St. Vincent


St. Vincent
Loma Vista Recordings [2014]

If you get St. Vincent and all of the eclectic pieces that go along with Annie Clark then you really liked her 2014 self-titled record. I feel now that our review missed the mark somewhat only because this album took more time to sink in. St. Vincent, the record, is beautifully weird and Clark's delivery combined with the riffs here make a great listen. A great listen worthy of its Top 50 spot.

St. Vincent: St. Vincent [Fire Note Review 2/24/14]
#37

Wussy


Attica!
Shake It Records [2014]

Wussy have been gaining some steam lately as they were just recently featured on CBS's Saturday Session. It is a much deserved highlight to this long running and hardworking indie band that just released one of their best in Attica!. Dynamic interweaving vocals from co-leads, Chuck Weaver (Ass Ponys) and Lisa Walker showcase how Wussy works as this album gives and gives and gives. With just a few spins you understand quickly what all the quiet hype is about!

Wussy: Attica! [Fire Note Review 5/15/14]
#36

White Lung


Deep Fantasy
Domino Records [2014]

White Lung's third LP, Deep Fantasy, is a rip roaring punk record that will easily remind you of early albums by the likes of Hole, L7, and Babes In Toyland. If you are like us, that is all you need to hear to jump into Deep Fantasy and White Lung's pummeling 23 minutes of effortless in your face rock. There were not many other records released this year that can match Deep Fantasy's intensity which is why it is in our Top 50.

White Lung: Deep Fantasy [Fire Note Review 6/16/14]
#35

Matthew Melton


Outside Of Paradise
Southpaw Records [2014]

Matthew Melton's sophomore album, Outside of Paradise, was a really cool lo-fi garage ride. It is a record that has swagger without trying as Outside of Paradise is a tidy 34 minutes and flows seamlessly. Melton released a Warm Soda record this year as well but Outside of Paradise is where he hit all the right chords.

Matthew Melton: Outside Of Paradise [Fire Note Review 12/14/14]
#34

Wand


Ganglion Reef
GOD?/Drag City Records [2014]

We live in a world where many artists try to reshape psychedelic music, and a lot of those who try fail. Wand used instinct, authenticity, and texture to an impressive degree that made their debut Ganglion Reef a squirrely kaleidoscope of lucid beauty and impactful fuzz. On more simple terms – it is a great record!

Wand: Ganglion Reef [Fire Note Review 9/2/14]
#33

Vertical Scratchers


Daughter Of Everything
Merge Records [2014]

Vertical Scratchers were destined to create indie rock, as members John Schmersal (ex-Brainiac/Enon, live Caribou, and Crooks on Tape) and Christian Beaulieu (ex-Triclops!/Anywhere) resume suggest. Their pure sound will remind you of the 90's but the reality is that Vertical Scratchers have created a timeless record that gives credit to the past but is fun today!

Vertical Scratchers: Daughter Of Everything [Fire Note Review 2/25/14]
#32

The Hotelier


Home, Like Noplace Is There
Tiny Engines [2014]

The Hotelier officially brought emo-punk back to proper form on Home, Like Noplace Is There. Their emotion filled sophomore record takes you on an energetic punk rock journey that is easily one of the best records I have heard in this genre, in quite a while.

The Hotelier: Home, Like Noplace Is There [Fire Note Review 3/10/14]
#31

The Ghost Of A Saber Tooth Tiger


Midnight Sun
Chimera Music [2014]

I am sure their name scared some people off but you might be surprised to find out that GOASTT is a band from Sean Lennon. The record is easily his most accessible music since his solo days and Midnight Sun showcases his creative side with its full-fledged infused psychedelic and whimsical 60's trippy pop vibe. Sound weird – maybe a little but only in a good way!

The Ghost Of A Saber Tooth Tiger [Fire Note Review 6/5/14]
#30

Circulatory System


Mosaics Within Mosaics
Cloud Recordings [2014]

Does it get any better than 60's pop melodies and wild psychedelic excursions woven together to create a giant sonic tapestry. That is just one description used for this double 31 track record. Its scope is enormous, it's flawed in spots, it's highly rewarding, and it can be dissected closely by rock archaeologists for the next 50 years.

Circulatory System: Mosaics Within Mosaics [Fire Note Review 6/26/14]
#29

Weezer


Everything Will Be Alright In The End
Republic Records [2014]

I don't think anyone could have predicted Weezer in the Top 50. Sure we heard the rumors about Everything but I don't think anyone believed them. Even after the sort of cheesy, sort of cool "Back To The Shack" single many people still wrote Weezer off. Guess what – this is their best record since the beloved Pinkerton and it just gets more fun everytime I spin it.

Weezer: Everything Will Be Alright In The End [Fire Note Review 10/3/14]
#28

Amen Dunes


Love
Sacred Bones Records [2014]

I like finding records that I can just sit down with. Amen Dunes third record Love is one of those albums. Love, found Amen Dunes dropping their guard some as they embraced the idea of using more musicians and highlighting Damon McMahon's vocals that pulls you in with its sincere delivery. This new focus on the details changes the soundscape for Amen Dunes and helped create their most engaging record yet.

Amen Dunes: Love [Fire Note Review 5/29/14]
#27

tUnE-yArDs


Nikki Nack
4AD Records [2014]

This record seemed to build momentum as 2104 rolled on. From opening for Arcade Fire to commercials, tUnE-yArDs are everywhere I turn. There is a reason for this and that would be the strength and music revolutions found on Nikki Nack.

tUnE-yArDs: Nikki Nack [Fire Note Review 5/9/14]
#26

Buffalo Killers


Heavy Reverie
Sun Pedal Recordings [2014]

I couldn't believe that Cincinnati's Buffalo Killers released a record on a subdivision of Warner Bros. Records with Heavy Reverie. They definitely had earned the shot and if you checked out their sonically polished effort you would be singing their praises. Their southern rock influence was running through every track while a hint of 90's indie rock drove some of the jamming ship. Buffalo Killers continue to impress and we can't wait to see what 2015 has in store for them!

Buffalo Killers: Heavy Reverie [Fire Note Review 5/12/14]
#25

Iceage


Plowing Into The Field Of Love
Matador Records [2014]

Iceage might not be for everyone as Plowing Into the Field of Love can get under your skin a little. I like this edge and with repeat listens this record just gets more intense. Plowing Into The Field is all about soaking up Iceage's mood which at times is edgy, catchy, haunting, daunting and outright punky but overall creates a great listening experience that keeps on giving all the way to the end.

Iceage: Plowing Into The Field Of Love [Fire Note Review 10/17/14]
#24

Sharon Van Etten


Are We There
Jagjaguwar Records [2014]

Here is a record I wish I had spent more time with. Are We There is a lush, emotionally powerful collection of songs that never found Sharon Van Etten holding back. At times the indie rock scene lacks female voices, so it's a welcome sight to see someone like Van Etten rise to the surface and shine.

Shron Van Etten: Are We There [Fire Note Review 7/18/14]
#23

How To Dress Well


What Is This Heart?
Weird World Recording Co. [2014]

There was no wasted space on What Is This Heart?. The album flows in a way that you don't notice when it ends and starts over. How To Dress Well-crafted a sophomore album that builds on their previous strengths and throws some new tricks at you. Tom Krell has established a high bar with his work up to this point, and What Is This Heart? is just another statement that backs it up.

How To Dress Well: What Is This Heart? [Fire Note Review 6/27/14]
#22

Temples


Sun Structures
Fat Possum Records [2014]

Melodic psych 60's rock from the UK? Sign me up. Temples came onto the scene with the catchy single "Shelter Song" and never slowed down. Temples filled every bit of space with musical ideas, covering sonic territory from fuzzy acid rock to spacey proto-prog to harmony-laden, British Invasion-influenced freakbeat, often within the same track. Looking forward to where they go next!

Temples: Sun Structures [Fire Note Review 3/20/14]
#21

Lykke Li


I Never Learn
Atlantic Records [2014]

I never would have thought this record would capture us the way it did. Lykke Li's third album is not only her best yet but also one of the top break up records released this decade. It is a powerful statement on life that is captured in a very listenable 33 minutes that easily found its place here in the Top 50.

Lykke Li: I Never Learn [Fire Note Review 5/8/14]
#20

Strand Of Oaks


HEAL
Dead Oceans [2014]

HEAL is Timothy Showalter's, a.k.a. Strand of Oaks, fourth LP and easily his most expansive as it takes you on a journey through some synth pop, a little post-punk, folky Americana and even a bit of hard rock. What could have been a scattered disaster, HEAL thrived on its different personas as Strand of Oaks have officially placed themselves on the musical map with this memorable release.

Strand Of Oaks: HEAL [Fire Note Review 7/8/14]
#19

Cloud Nothings


Here And Nowhere Else
Carpark Records [2014]

Cloud Nothings delivered an expected high quality indie rock record. No more and no less. At first listen, I think many people shrugged their shoulders as if nothing had changed but the maturity that oozes out of Here And Nowhere Else after repeat spins is hard to turn away from. Basically, Cloud Nothings provided one bad ass, in your face, kick your teeth in, pounder of an album that hardly ever let up – Just what the doctor ordered!

Cloud Nothings: Here And Nowhere [Fire Note Review 3/31/14]
#18

Easton Stagger Phillips


Resolution Road
Campfire Propaganda/Rebeltone Records [2014]

I can't say enough about the talent of Tim Easton, Leeroy Stagger and Evan Phillips. Resolution Road was easily the best Americana/folk record I listened to this year as its pure harmonies just pour out of the album. ESP did an excellent job of making a cohesive record while still shining individually when the light was on them vocally. Their hard work paid off as Resolution Road is a timeless keeper.

Easton Stagger Phillips: Resolution Road [Fire Note Review 5/1/14]
#17

Real Estate


Atlas
Domino Records [2014]

If it's not broke don't fix it – just tweak it. That is the main story behind Real Estate's third record Atlas. The New Jersey group returned with an album that took their tighter and more refined approach to a different level by melting down their pop gems into a much more mature and even tone listen.

Real Estate: Atlas [Fire Note Review 3/5/14]
#16

Ryan Adams


Ryan Adams
PAX-AM/Blue Note Records [2014]

Ryan Adams continues to impress and his recent output has been high quality. If mini-records could have made the list his ripper Replacements like record 1984 would be here as well. His self-titled release captures the essence of classic rock while keeping it very 2014. That is not an easy task but when you have the songwriting talent of Adams and the chops to pull it off – he satisfyingly makes it look and sound very easy.

Ryan Adams: Ryan Adams [Fire Note Review 9/10/14]
#15

Woods


With Light And With Love
Woodsist Records [2014]

Woods unique blend of 60's and early 70's rustic psychedelic pop music goes down smooth and sinks deeper into your brain with each listen. They are one of the greatest bands in the world right now, if you aren't paying attention to them yet, you should be. With Light And With Love is the album for a wider audience to recognize this.

Woods: With Light And With Love [Fire Note Review 4/15/14]
#14

The Afghan Whigs


Do To The Beast
Sub Pop Records [2014]

16 years? No problem – The Afghan Whigs picked right back up where they left off! Do To The Beast was one of the more critically overlooked records this year that never left TFN player. Do To The Beast is not only a natural return to the scene but one that does not take any shit. That is the attitude we expected from The Afghan Whigs and that is exactly what they bring back to the table!

The Afghan Whigs: Do To The Beast [Fire Note Review 4/11/14]
#13

Curtis Harding


Soul Power
Burger Records [2014]

There is a reason Jack White called upon Curtis Harding to open several of his shows. His retro-soul meets rock is incredibly infectious. On his Soul Power debut Harding's sound is classic but his progression is 2014 as he sing effortlessly with cool passion. Curtis Harding is an emerging artist that you should get to know now and Soul Power proves that point.

Curtis Harding: Soul Power [Fire Note Review 5/28/14]
#12

White Fence


For The Recently Found Innocent
Drag City Records [2014]

White Fence broke through to the next level and fulfilled all expectations with For The Recently Found Innocent. The record is chock full of Kinks and Who inspired garage rock anthems that just get better after every spin. Tim Presley has always been a stellar songwriter, but this raw edge he displays here really suits the material and firmly places the album at #12.

White Fence: For The Recently Found Innocent [Fire Note Review 7/23/14]
#11

TV On The Radio


Seeds
Harvest Records [2014]

Seeds is a profound journey through pain and loss, and ultimately, spiritual recovery and rebirth! It also is catchy as hell. On their new album, the band has dialed back on the experimentation and atmosphere and has instead chosen to put their strongest set of melodies front and center. TV on the Radio has long been one of the finest bands in the world, but with this album, they have reached another level.

TV On The Radio: Seeds [Fire Note Review 11/26/14]
#10

Beck


Morning Phase
Capitol Records [2014]

Morning Phase is a record that had nothing to prove but everything to give! As much as we would put this album down, we just could not put it away. I think that if fans went into this record with defined expectations, Morning Phase may have passed them over. Morning Phase represents Beck's total control of his career and you can hear his love of music in each carefully sung line on this album. Morning Phase has such a sonic flow that it became impossible to turn away from which is why it lands at #10.

Beck: Morning Phase [Fire Note Review 2/24/14]
#9

Spoon


They Want My Soul
Loma Vista/Republic Records [2014]

Thinking some of their best work may be behind them, Spoon's They Want My Soul is a near-perfect return to form. We can't imagine a more balanced, engaging, addictive, surprising album coming out this year. Spoon has a long history of excellent work, but They Want My Soul ranks right up there. It's good to have Britt Daniel and the guys back.

Spoon: They Want My Soul [Fire Note Review 8/4/14]
#8

King Gizzard & The Lizard Wizard


I'm In Your Mind Fuzz
Castle Face Records [2014]

Australia's King Gizzard will give you an entire new perspective in every way that is good. I'm In Your Mind Fuzz treats you to wild transitions, fuzzed up vocals, spiraling out of control instruments and plenty of energy that feels new and fresh. Funky turns and psychedelic jams are just a few descriptions for I'm In Your Mind Fuzz – "Exciting new band to check out," is the only way to describe King Gizzard & The Lizard Wizard.

King Gizzard & The Lizard Wizard: I'm In Your Mind Fuzz [Fire Note Review 11/12/14]
#7

Parquet Courts


Sunbathing Animal
What's Your Rupture? / Mom & Pop Music [2014]

Could Sunbathing Animal be better than their excellent last record? I kept thinking I was missing something because it is rare for lighting to strike twice, so I cautiously kept listening to the NYC band Parquet Courts post-punk/slacker indie rock. Sunbathing Animal is a sharp and smart record that finds a classic punk groove that will remind you of Wire and several more punk art bands. No question – Top 10 material.

Parquet Courts: Sunbathing Animal [Fire Note Review 6/25/14]
#6

Mac DeMarco


Salad Days
Captured Tracks [2014]

Mac DeMarco grows up? With Salad Days – Yes. Mac DeMarco is a great pop songwriter in the tradition of his 60's idols and Salad Days has such a cool laid back vibe that it becomes a classic. DeMarco is on the verge of bigger venues and wider success – Salad Days will always be the record which put him there.

Mac DeMarco: Salad Days [Fire Note Review 4/1/14]
#5

Ex Hex


Rips
Merge Records [2014]

Ex Hex has quickly become one of the best female power trios on the music scene today. Rips brings back a classic sound of rock n roll that kindles the spirits of the Ramones, Joan Jett's Runaways and even a little Cheap Trick. It is a fun never slow down type of record that finds an electric chemistry between these three women that not only makes Rips stronger with every replay but also a whole lot of fun!

Ex Hex: Rips [Fire Note Review 10/6/14]
#4

Guided By Voices


Motivational Jumpsuit
Guided By Voices Inc. [2014]

GBV hit a home run with their strongest "classic lineup reunion" album yet! Motivational Jumpsuit has the classic seamless transitions of early era GBV while providing big time rock hooks. The thundering "Planet Score" is easily one of the best tracks the current configuration released while the rollicking "Alex and the Omegas," is the strongest album closer. Motivational Jumpsuit surly will be remembered!

Guided By Voices: Motivational Jumpsuit [Fire Note Review 2/14/14]
#3

Sun Kil Moon


Benji
Caldo Verde Records [2014]

Benji is one of the most intense lyrical driven records you will ever here. Sun Kil Moon takes a deep look at life here that sometimes is tough to hear twice but the record's superb musicianship makes it go down easier. Benji is an album that not only stands up as one of the best releases this year, but will remain an excellent and timeless piece of work that will be enjoyed years from now.

Sun Kil Moon: Benji [Fire Note Review 2/12/14]
#2

The War On Drugs


Lost In The Dream
Secretly Canadian Records [2014]

We don't call albums "instant classics" very often but that is exactly how we feel about The War On Drugs, Lost In The Dream. It's got it all, great instrumentation, a great vocal and melody, and a cool vibe. It is album that takes some dedication as it passes the one hour mark but it is completely worth the investment as you will just sit in stunned silence upon its conclusion. That is a priceless feeling when it comes to music and The War On Drugs make it happen!

The War On Drugs: Lost In The Dream [Fire Note Review 3/18/14]
#1

Ty Segall


Manipulator
Drag City Records [2014]

Manipulator was such a different record for Ty Segall. It has a polished production, is 56 minutes long, mellow in parts, groovy in others and contains many surprises. A great double album has to be impeccably sequenced in order to keep the listener from getting ear fatigue. Manipulator does just that and lets Segall show that he is a master of his craft. The scorching guitar on "Feel" alone placed this album at the top for us but it is really about how Segall effortlessly moves between styles and masters them all. He has put out many great albums over the past few years, but this is his best.

Ty Segall: Manipulator [Fire Note Review 8/26/14]
Online Music Magazine: Independent Music Reviews, Vinyl Spotlights, Music News, Videos, 7-inch record features + more!
Latest posts by Fire Note Staff (see all)