Ariel Pink


Pom Pom
4AD Records [2014]



Fire Note Says: Pom Pom is an insanely infectious joyride that seems to take you on a different route each time you listen.
Album Review: You probably haven't heard anything like Pom Pom, the 17 track new album from Ariel Pink (minus his Haunted Graffiti) this year, and odds are you won't hear anything like it for a while yet. You see, they don't make records like this too often anymore. Pom Pom has a joyful spirit of adventure and playfulness, yet also retains solid songwriting, arrangements, and melody. This is the rare album that combines wit with craft, and ends up rising to that special level where only a handful of bands live, I'm talking of acts like Zappa and Ween, acts that challenged you as a listener, forced you to move your boundaries, changed the way you heard music, all while putting a smile on your face. That's what Ariel Pink has accomplished with his new record, he dares to push our boundaries as listeners, and by doing such, he is bound to lose people, some people just won't get it, but the people who do get it will sing it's praises as loud as they can. You might not get it right away, but when it finally clicks, you won't believe you didn't get it immediately.
Pom Pom starts off on a very Beatlesque note with "Plastic Raincoats in the Pig Parade", with its tape loops and kiddie sounding instruments all giving the track an incredible charm and likability. Oh yeah, and it's incredibly catchy too, I have been singing it in my head for a week now. How ridiculous is it to walk around singing "Plastic Raincoats in the Pig Parade, Oh Yeah Oh Yeah", real ridiculous I'll admit, but Ariel Pink has that unique ability to stick a part of his unique insanity into your head, and pull you into his world. "White Freckles" pairs an insanely goofy lyric with a prog riff worthy of the mighty Love Beach LP (I'm kidding that record sucks, but really think Tarkus). There a few really good singles on the album, particularly "Put Your Number In My Phone" and "Picture Me Gone", that help keep balance out ultra-catchy and goofy tracks like "Nude Beach A Go Go" and "Sexual Athletics" and keep the album from going completely off the rails. Some of the tracks on the album appear to be throwaways on first listen, but are actually really clever in their particular placement on the record.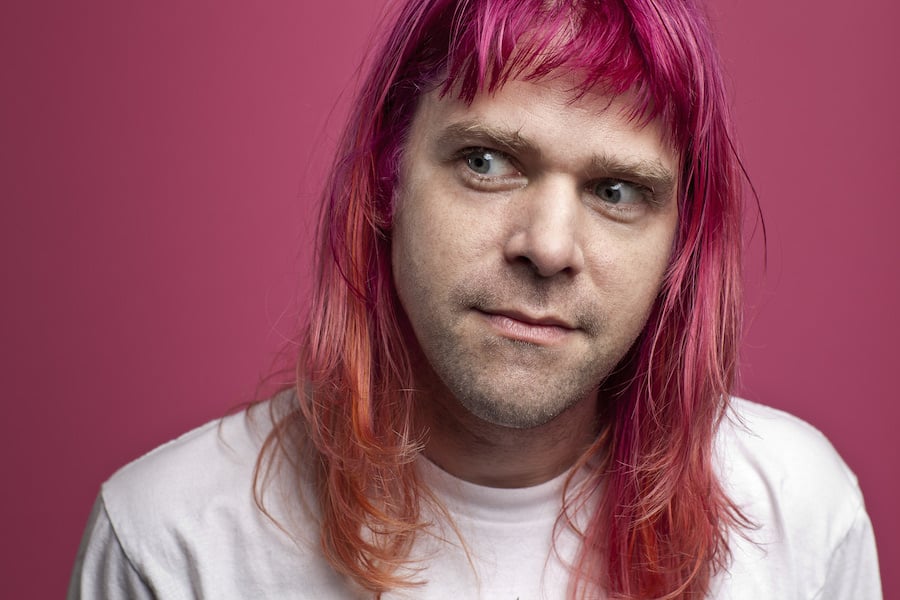 Pink's sequencing of the record seems to be designed to keep the listener on their toes; you never know what direction the record is going to spin off in. Is it going to head into the shitter or is it going to spiral up into the stratosphere??? It does both, often within a song or two, and that's part of the genius of Pom Pom. Ariel Pink has created his own little world where there are no rules and anything goes on this album. It's ridiculous and sublime, it's immature and sophisticated, and that is precisely why it will divide listeners. This is the kind of record you either love or hate, I don't think anyone will hear it and think "It's Ok". It's going to provoke a strong reaction from the audience, and that's the point. That's art.
Key Tracks: "Picture Me Gone" / "Plastic Raincoats In The Pig Parade" / "Nude Beach A Go Go"
Artists With Similar Fire: Frank Zappa / Mac DeMarco / Of Montreal
Ariel Pink Website
Ariel Pink Facebook
4AD Records
– Reviewed by Kevin Poindexter
Latest posts by Kevin Poindexter
(see all)