Cool Ghouls


A Swirling Fire Burning Through The Rye
Empty Cellar Records [2014]



Fire Note Says: These garage-psych revivalists have done their homework!
Album Review: Cool Ghouls is a four-piece based in San Francisco, and with their new album A Swirling Fire Burning Through The Rye, they've done the near-impossible: they've created a full-length LP of songs straight out of the mid-60s garage rock scene in 2014—but more impressively A) it's not repetitive, B) it doesn't try to hard, and C) it doesn't suck. In fact, it does just the opposite off all of those things: it's diverse, effortlessly confident, and backs up its ambitions with catchy hooks and a contagious energy that threatens to burst its own seams. In case you haven't gotten the picture yet: if you dig that Nuggets sound and just can't get enough, you should buy this album now.
A Swirling Fire Burning Through The Rye was recorded live to tape by fellow San Franciscan Sonny Smith of Sonny and the Sunsets, and that "live in the studio" sound is one of the best things about this record. While I'm all for studio perfectionism in the right circumstances, a garage rock record is not where I want to hear it, and thankfully Cool Ghouls don't get too concerned with putting every not in exactly the right place. That's not to say the album is sloppy; it's anything but. It's evident from the first listen, though, that this is a band who've honed their live chops, and as a result the sound is tight and propulsive, but it feels like the product of four guys playing together rather than an over-polished Pro Tools creation.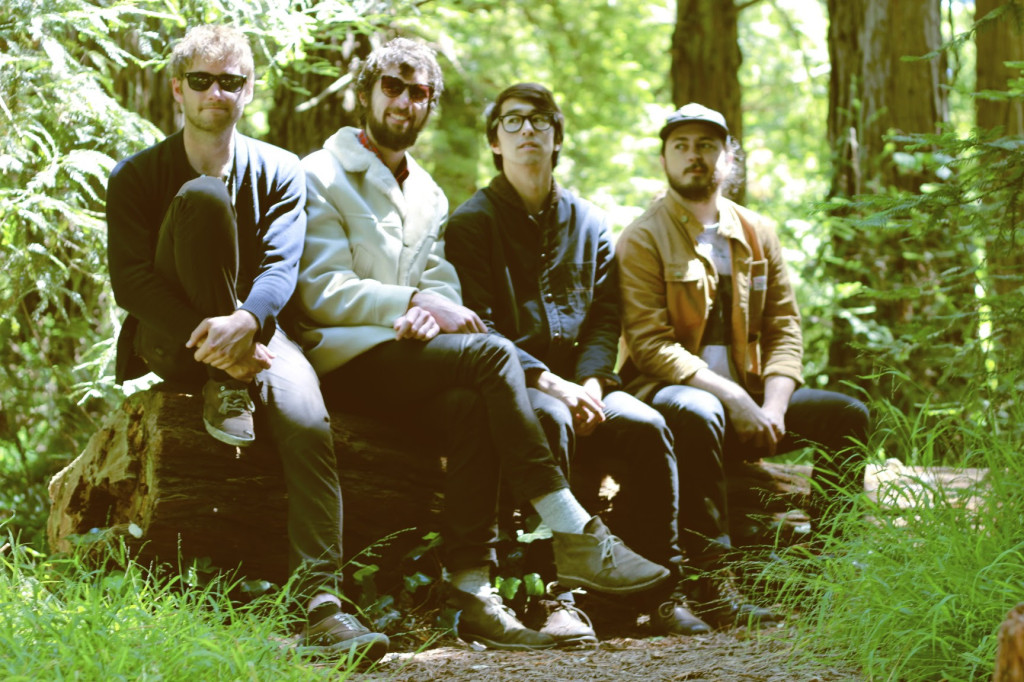 Genre-wise, Cool Ghouls go for a sound that sits firmly in 1966-67, straddling the line between the pop songcraft of garage rockers like Shadows of Knight or The Remains and the trippier, psychedelic sound of acts such as The Electric Prunes or Thirteenth Floor Elevators. The band's vocals are strong and their harmonies take cues from the Fab Four, but also from later neo-psych acts like XTC-alter-ego Dukes of the Stratosphear and current-day acts like Temples and Tame Impala. Even if you forget the "recorded live" nature of the record, the performances are still impressive, only occasionally going on a bit long or falling a little too close to the tree (as on the otherwise fantastic—but obvious "Lucy In The Sky With Diamonds" homage "What A Dream I Had," which also bears a strong resemblance to the classic Apples in Stereo cut "Strawberryfire").
A Swirling Fire Burning Through The Rye has that extra little something that you can't quite put your finger on, but when it's present results in a whole that's more than the sum of its parts. Cool Ghouls have made an album that successfully recalls the heyday of garage psych while still sounding modern and fresh—no mean feat in a music landscape filled with literally thousands of similar acts. The album doesn't try to reinvent the wheel or grab attention with gimmicky experiments—instead, Cool Ghouls just want you to rock out with them for forty-five minutes, and A Swirling Fire makes it pretty easy to say yes.
Key Tracks: "What A Dream I Had" / "Get A Feelin'" / "And It Grows"
Artists With Similar Fire: The Dukes of the Stratosphear / Mystic Braves / Temples

Cool Ghouls Website
Cool Ghouls Facebook
Empty Cellar Records

-Reviewed by Simon Workman
Latest posts by Simon Workman
(see all)