Exit Verse


Exit Verse
Ernest Jenning Record Co. [2014]



Fire Note Says: Geoff Farina is back with a guitar driven band that finds all the right classic rock riffs.
Album Review: Singer/guitarist Geoff Farina (Karate, Secret Stars, Glorytellers) teamed up with drummer John Dugan (Chisel, Edsel) and bassist Pete Croke (Brokeback, Tight Phantoms) to form Exit Verse early in 2013. The indie supergroup is one of the most straightforward rock sounding bands that any of these three guys have been in before which gives Exit Verse a fresh start even though their sound is built on their veteran experience and their early influences.
This more classic rock sound starts from the very first riffs in opening track "Under The Satellite" as Farina's voice has the perfect tone to drive this ship. In Karate, Farina's focus was typically on the guitar and song structures which sometimes could easily push beyond 5, 6, 7 minutes long. What I like about Exit Verse is that he carries that same laid back groove forward but now has simplified the structures. This leads to the harmonies and angular rhythms in "Seeds" as well as the quick tempo of "Perfect Hair" that lets Farina isolate his vocals out front with speed before strolling into several minor guitar solos throughout the track. It also lets songs like "Pull Out The Nails" roll off Farina's tongue with a true passion that you can feel when he sings "break free from the old into which we will behold and then take me down to the grave" with controlled and focused emotion.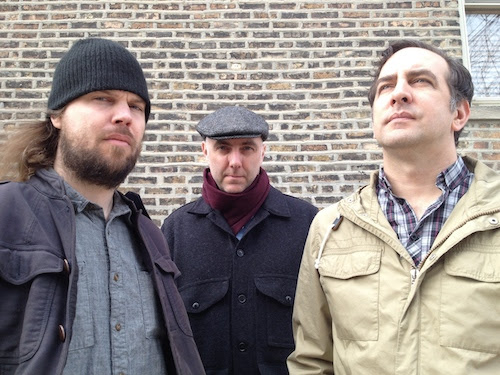 Exit Verse is probably not going to have tons of critics hailing the band as the next big thing because their debut is not that type of record. It is an album that just sounds good. Solid guitar playing, solid vocals, solid drums and solid bass – enough said. Plain and simple stuff that seems like it would be easy to pull off but I am sure we can all list tons of groups that couldn't make this happen with the ease that Exit Verse display. If you liked Farina's previous bands you will like Exit Verse. This is a record where everyone involved is having fun playing music and you can hear it in every chord and find respect with every drum beat. Regardless of tempo, Exit Verse supplies plenty of memorable grooves over a very enjoyable 33 minutes. This album not only represents a new era for Farina but a great debut for Exit Verse.
Key Tracks: "Under The Satellite" / "Seeds" / "Pull Out The Nails"
Artists With Similar Fire: Ted Leo / The Hold Steady / Spoon

Exit Verse Facebook
Ernest Jenning Record Co.
– Reviewed by Christopher Anthony
Latest posts by Christopher Anthony
(see all)