Gary Clark Jr.


Live
Warner Bros. Records [2014]



Fire Note Says: Gary Clark Jr. Live is a solid and spirited performance.
Album Review: Earlier this year, Eric Clapton was interviewed by David Fricke for Rolling Stone Magazine, as his tribute to JJ Cale, The Breeze, was hitting stores and talk of the guitar god's retirement was in the air. Asked about the future of guitar driven music, blues and rock & roll, Clapton offered this assurance: "The guitar is in safe hands. Gary Clark Jr. shines now. He's years in and hasn't even gotten started yet. And it's always safe with people like Jimmie Vaughan and Derek Trucks. It's about soul and character."
Gary Clark Jr.'s star does continue to shine on his latest release, a live recording that revisits all but three tracks from his 2012 major label debut, Blak and Blu. Usually the recording of a live album happens late in one's career, a way to cash in yet again on one's hits or to fulfill a less than satisfying record deal, but Clark is pursuing very different goals.
Take the three songs he covers here. "Catfish Blues," the Robert Petway composition most recognizable in the modern era from Jimi Hendrix's cover, to which Clark's version pays tribute. Same thing happens on "3 O'Clock Blues," originally associated with Lowell Fulson but immortalized in the hands of B.B. King. And, again on "If Trouble Was Money," Clark celebrates another giant of the blues guitar, Albert Collins, and quite seriously as his solo just tears it up. The message here is that we may be losing a generation of guitar greats to age and retirement… but yes indeed, blues/rock guitar is in good hands.
While Clark is best recognized for a swampy, distorted guitar sound, dominant on "Next Door Neighbor Blues," "Numb" and a host of other tracks, one of the priorities here is a display of the artist's virtuosity and versatility. He exhibits his prowess and flexibility throughout, opening "When My Train Pulls In" with shimmering harmonics, and laces the mid-section of "Don't Owe You a Thang" with crisp jazz chords that rely as much on the quiet that surrounds the notes as the notes themselves.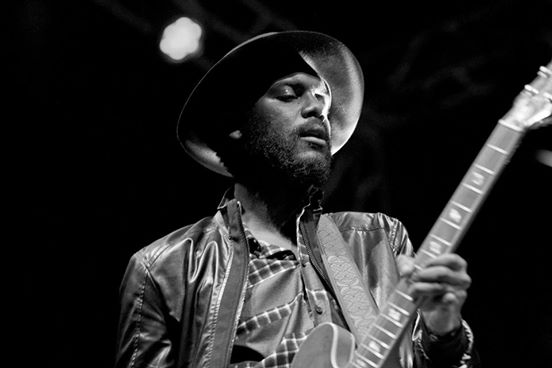 Since most of these songs appeared on Blak and Blu just two years ago, what's noteworthy here is the way Clark approaches these tracks in a live setting without the aid of studio technology, gimmicks and tricks. Here his songs stand on their own, and his playing and singing is what makes the record worth the time, even if you've memorized the studio versions. While Clark's musical interests are varied, dabbling in hip-hop here, a little country there, there is little doubt that this Austin-raised 30 year old wears his blues aspirations on his sleeves.
Of course, the best live blues/rock album ever recorded (IMHO) is the Allman Bros. Band's At Fillmore East, which captured the late great Duane Allman, Dickey Betts and Gregg Allman when they were young and in their prime, with something to prove. Clark's Live is motivated by that same spirit, a young guitarist eager to step from the shadows and earn a place among the guitar pantheon. These solid, spirited performances accomplish just that.
One distinct change of pace comes with "Please Come Home," a beautiful R&B ballad that Clark sings in a sweet high falsetto. Of course, his guitar solo remains true to form, but we get a hint of a different side of Clark here, and can begin to imagine to breadth of his talent to come in the years ahead. After all, he hasn't even gotten started yet.
Key Tracks: "When My Train Pulls In" / "Bright Lights" / "Please Come Home"
Artists With Similar Fire: Stevie Ray Vaughan / Eric Clapton / Allman Bros. Band

Gary Clark Jr. Website
Gary Clark Jr. Facebook
Warner Bros. Records
– Reviewed by Brian Q. Newcomb
Latest posts by Brian Q. Newcomb
(see all)