Tom Petty & The Heartbreakers


Hypnotic Eye
Warner Bros. Records [2014]



Fire Note Says: Hypnotic Eye finds Petty & the Heartbreakers continuing to stretch, grow, and inspire.
Album Review: For nearly four decades, Tom Petty & The Heartbreakers embodied a truly singular American rock band sound (perhaps second on that front only to Bruce Springsteen & The E Street Band). Over the years Petty and his committed band of rebels have tipped their collective hat to many of the great creative tributaries of the American rock river. Early on you could hear in the Heartbreakers musical blend the influences of singer/songwriter Bob Dylan, the 12-string Rickenbacker jangle and harmonies of the Byrds, the Southern blues/rock instrumentals of the Allman Bros., and the garage band grit and the DIY independent spirit of early punk.
On their way to earning a place in the Rock & Roll Hall of Fame, Petty & Co. backed up Bob Dylan, Johnny Cash and Stevie Nicks, headlined the Bonnaroo festival and other cultural events, including the half-time show for Super Bowl XLII, and released enough great pop/rock anthems to build a bridge between classic and modern rock radio formats. Of course, Petty went off on his own for a couple of solo albums and recorded two discs with the Traveling Wilburys, the super group featuring Dylan, George Harrison, Jeff Lynne and Roy Orbison. But even Petty must realize that he's always at his best supported by the Heartbreakers – Mike Campbell carving out those compelling and irresistible guitar riffs, the subtle inventions of Benmont Tench on keyboards and sturdy foundation of the band's rhythm section – Scott Thurston on guitar, Ron Blair on bass, and Steve Ferrone on drums.
Hypnotic Eye comes four years after the band's exploration of their deep Southern roots and the jam band approach of the Allman's, Mojo, a record I pretty much wore out and placed at the top of my best of 2010 list. But here they've returned to more familiar territory, recovering some of the grit and urgency of those early albums which sounded like they could have been recorded in a garage in Florida. "American Dream Plan B" wrestles with the failure of the economy to sustain the current generation of wannabe's through a tense power chord progression that opens up midway with an acoustic salute to Pete Townshend's teen angst prose. (They throw that same Who riff into "Forgotten Man" half way through the disc.) Still amid all the obvious decline ("Burnt Out Town"), Petty's characters push beyond cynical despair to hope for a better world, a better life.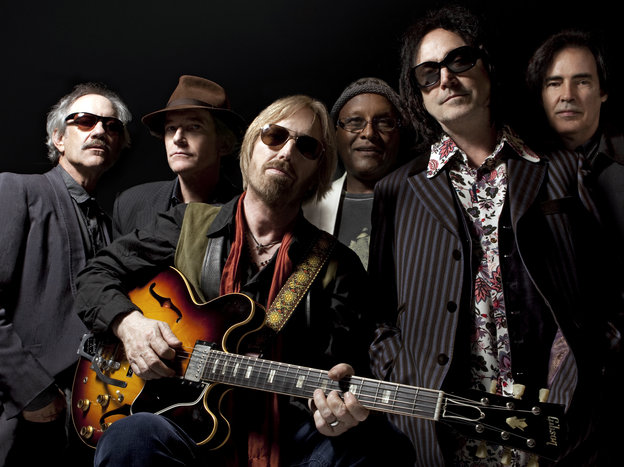 Like Springsteen, Petty invites us to leave behind all of corporate religion's schlock and meet him down by the "Red River," where you can "look down into your soul." In "Full Grown Boy," he acknowledges that he's delayed facing into maturity, while in "Sins of My Youth" he looks back on the mistakes of his life confirming that he wouldln't change a thing to get to where he is today.
Throughout, Mike Campbell's guitars simmer with passionate authority. His spot on tone and timing shine through the co-written "Fault Lines," where he & Petty engage in some instrumental call and response. Elsewhere his solos rise up to seer the air with emotion and energy, providing just the right accent to Petty's melodies. And the Heartbreakers, who can say enough about their crisp cohesion, the way they rise to the occasion to give just the right musical setting and support. Hypnotic Eye, the 13th album for Petty & the Heartbreakers, finds the band continuing to stretch and grow, ever relevant, ever inspired and inspiring.
Key Tracks: "Fault Lines" / "American Dream Part B" / "All You Can Carry"
Artists With Similar Fire: The Rolling Stones / Bruce Springsteen & the E Street Band / Bob Dylan
Tom Petty Website
Tom Petty Facebook
Warner Bros. Records
– Reviewed by Brian Q. Newcomb
Latest posts by Brian Q. Newcomb
(see all)