Joseph Airport


Stronger and Better
Rockathon Records [2014]



Fire Note Says: Joseph Airport's quirky psychedelic miniatures grow on you with repeated listens.
Album Review: If you've lived in Dayton, OH more than a couple of years, you'll immediately recognize the origins of Joseph Airport's odd moniker as the name of a certain car dealership north of downtown. But it could just as easily be a nod to Airport 5, one of Robert Pollard's first "postal rock" collaborations with his Guided by Voices bandmate Tobin Sprout, because Stronger and Better—besides being "discovered, edited, and sequenced by" Pollard—is also a long-distance project. Recorded piecemeal by members Jereme Sanborn, Matthew Cutter, Ben Penry, and Joe Patterson, Stronger and Better bears an undeniable surface resemblance to its compiler's recently-defunct band, but it's by no means a straight imitation of that other Dayton band—it's a little goofier, hews closer to a pure late-60s psychedelic sound, and while it's not quite as craftsman-like as Pollard's own work there's a palpable sense of enthusiasm that starts to rub off on you once you start listening.
Musically speaking Joseph Airport keep things interesting by cycling through as many sounds as they can think of: one minute the guitars are drenched in phaser and reverb effects, the next they're crunchy and distorted, then they go for an overdriven acoustic sound. Considering the long-distance nature of the album's creation, things sound pretty cohesive most of the time, with only the vocals occasionally sounding a little detached. Pollard's sequencing works well too—the songs are so short that they might have sounded like a jumbled pile of sketches, but instead the order sound purposeful and highlights the album's diversity. And even though they're short, there are a lot of catchy melodies here, some of my personal favorites being "It's Never To Early (To Have Your Mind Blown), "Love His Craft," "(Not Even) The Astronauts Know," "Feeding the Monster," "Throwing Up Flowers" and the hilariously-titled closer "Young Gary Oldman." There's nothing here that would qualify as a lost psych-rock classic, but the ratio of strong tracks to throwaways is surprisingly high.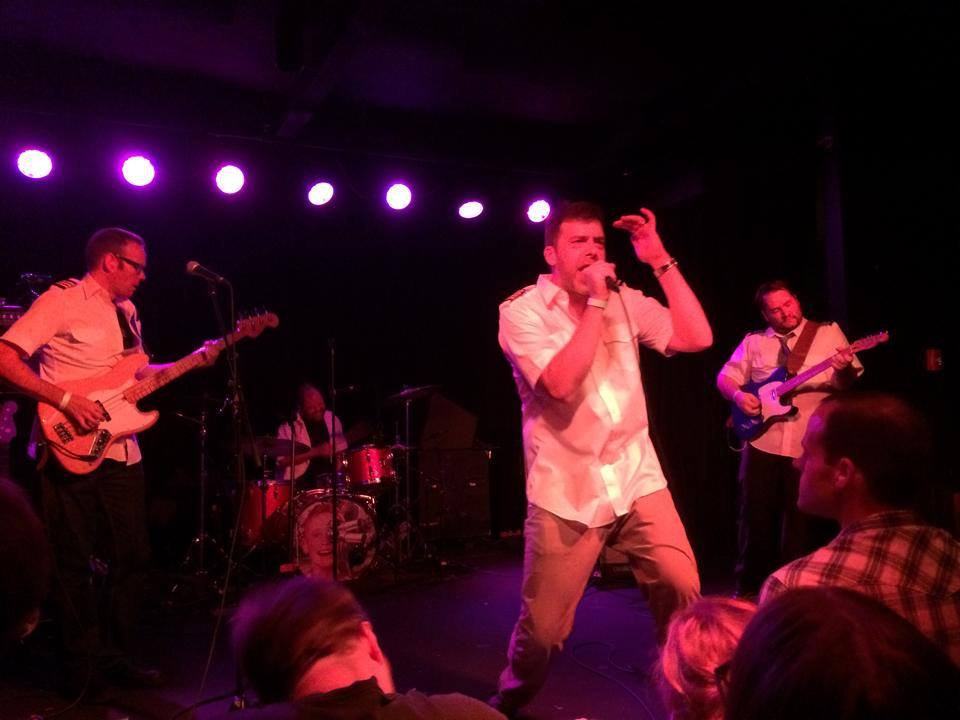 Lyrically the album is more hit and miss, but if you're like me you listen for music first and lyrics second anyway (except maybe in the case of the Bob Dylans or Jeff Mangums of the world). At worst they come off like a less successful mimicry of Robert Pollard's lyrical style, but sometimes they work well, like the H.P. Lovecraft tribute on "Love His Craft" or the sense of paranoia detectable on "Feeding the Monster." But some of the album's best lyrics are also its funniest: there's "Robins Are The Nerds of Birds," whose lyrics are just as silly as its title ("Robins are the nerds of birds / Ravens are the greasers / Bluejays are the pomp, the pimps / Cardinals are the teachers"), or the Tim Burton-esque "When The Great Animator Runs Out Of Ink," with its lines about "Walt Disney's cryogenically frozen head" and "Steamboat Willy and the dissolution of existence." Then there's the previously mentioned "Young Gary Oldman," where Cutter sings: "Rosenkrantz and Gary Oldman / Are dead / Now he's an old man / And I wish to go back / To when Gary Oldman / Was a young man."
Stronger and Better is one of those albums that seems unassuming on the first listen or two, but then you find yourself humming a snippet of a song or chuckling at a funny line and next thing you know you've got it on the turntable again. While Pollard's input certainly helped elevate the album to some extent, it will be interesting to see if the band's next effort can measure up to this one (apparently they're as prolific as their spirit guide and are already at work on album number six—yes, you read that right). Whatever the case, Stronger and Better is an eccentric, zany little album whose catchy tunes and peculiar lyrics can put a grin on your face. Don't miss this flight!
Key Tracks: "Love His Craft" / "Young Gary Oldman" / "It's Never Too Early (To Have Your Mind Blown)"
Artists With Similar Fire: Circulatory System / The Takeovers / Syd Barrett

Joseph Airport Website
Joseph Airport Facebook
Rockathon Records 

-Reviewed by Simon Workman
Latest posts by Simon Workman
(see all)