Shellac


Dude Incredible
Touch And Go Records [2014]



Fire Note Says: Dude Incredible is a bad mofo!
Album Review: Man, it's a shame that Shellac seems to have slowed their release pace down to roughly the speed of a glacier moving across vast stretches of land, because Dude Incredible, the trio's first album since Excellent Italian Greyhound came out seven years ago, is a bad mofo, and I think we all agree that we can never have too much kick ass rock in our life, and that is exactly what this is. Shellac, Steve Albini, Bob Weston, and Todd Trainor have never been subtle about anything, and this record is about as subtle as a boot to the head. The guitars rage, the drums pummel, and the bass pulses, and then there are the vocals which are loud and in your face. This is aggressive music, music that is a catharsis, it makes you want to unleash your inner beast and go all out until you are completely spent. Shellac aren't reinventing the wheel here, they never have since their debut album 20 years ago, the excellent At Action Park. They do what they do, and they do it better than just about anyone, hell, Albini has been playing this kind of music since the days of Big Black, but there is no question that Shellac is the best vehicle for his challenging songs, each album has been just as satisfying as the one before it, and he maintains the same signature on his records that you would find on any Albini produced album. They all sound like they could have been recorded at the same time, but the thing that makes them timeless is that you can't tell when that time was, it could have been last week or twenty years ago, it doesn't matter.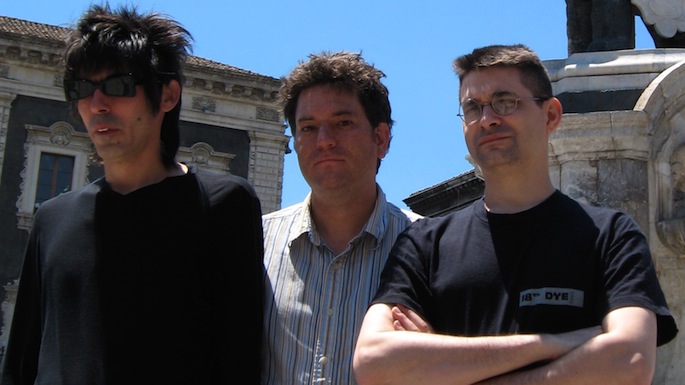 Dude Incredible is filled with the sort of Math/Post Rock that makes Slint fans feel like they have a purpose in life while they await those long awaited nuggets from their overlords. This is the real deal, and nowhere is it more obvious than on the six minute title track, an angular, meaty, tour de force that perfectly captures the essence of Shellac. Think of this song as the Shellac litmus test. If you dig this song, you are going to love this band and immediately download all five of their albums. If you don't like it, then go ahead and stop listening, or go to the doctor and get your ears irrigated and listen again. If you still aren't into it, then this isn't the band for you, but you and I both know that you crave the rock, so what are you waiting for? Go get this record today.
Key Tracks: "Dude Incredible" / "Complaint" / "Riding Bikes"
Artists With Similar Fire: Don Caballero / Unwound / Mission of Burma
Touch And Go Records
– Reviewed by Kevin Poindexter
Latest posts by Kevin Poindexter
(see all)