Allo Darlin'


We Come From The Same Place
Slumberland Records [2014]



Fire Note Says: Allo Darlin' return with another smooth indie pop record that just might be their best!
Album Review: Allo Darlin' are a London-based four piece that is fronted by the silky smooth pop vocals of Australian Elizabeth Morris. With their third record, We Come From The Same Place, Allo Darlin' have tweaked and perfected their sound with a very driven and focused approach that will have you hooked after the opening track's indie pop chemistry.
Allo Darlin' made a noticeable switch on their sophomore effort , Europe, that found the band slowing things down to more of a mid-tempo pace from the speedier indie jangle found on their debut. We Come From The Same Place is not so drastic of a style shift but a refinement of Europe which should be good news if you were a big fan of that record. With this style of music, a band runs the risk of becoming too complicated and focused on a perfect studio sound. Luckily, We Come From The Same Place brings an even greater sophistication to Allo Darlin's studio vibe but not at the risk of losing their passion as you can hear the band channeling 110% into these tracks. This is indie pop with a purpose and the musically tight combination found here is essential to its success.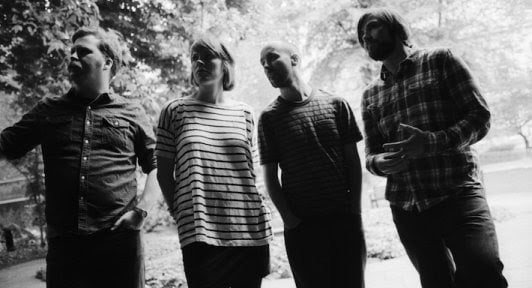 Some of the small moves that push this album forward can be found on one of its best tracks, "Bright Eyes." The track not only features Morris' vocals but a different perspective from bassist Bill Botting as the track is more of a duet. It is a song that makes you take notice as it not only changes up the formula some but has the right indie bounce and includes strong guitar work from Paul Rains. On "Romance and Adventure," Allo Darlin' sound tougher than ever as the entire track is less polished and the lyrics talk about loss and how hard it can be to move on. This especially hits home when Morris comes across defeated and lets out the last line of the chorus, "I'm just tired of being strong." This story telling ability takes a front seat on We Come From The Same Place and Morris is totally up for the job. It is this emotion that pulls you into Allo Darlin' and the same emotion that makes you not want to leave.
If you were expecting changes with Allo Darlin' then this record will come as a disappointment. I always am of the belief that if it is not broken don't fix it. That is the way I feel here on We Come From The Same Place as its musically tight combinations places Allo Darlin' at the top of their game and one of current leaders on the indie pop scene. This is a record that only gets better with repeat spins and when played against the cooler fall days, Allo Darlin' sound like a band that not only know where they have been but very confidently know where they are going.
Key Tracks: "Bright Eyes" / "We Come From The Same Place" / "Romance And Adventure"
Artists With Similar Fire: Belle & Sebastian / Hospitality / Tender Trap

Allo Darlin' Website
Allo Darlin' Facebook
Slumberland Records
– Reviewed by Christopher Anthony
Latest posts by Christopher Anthony
(see all)