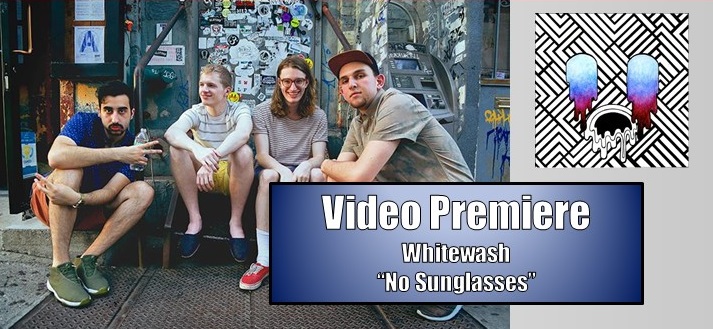 In the world of "I want everything now," waiting for a song to kick in may be beyond our current society's attention span but remember what your parents always said – "good things come to people who wait." Living by these words pays off in Whitewash's new video for "No Sunglasses" off their recently released EP, Fraud in Lisbon.
The opening slow guitar strums in "No Sunglasses" seems to set the tone as singer Evan Glazman chimes in with a very mellow croon that moves like a wave. This ebb and flow of verse and chord is pleasant enough and even crosses into Jeff Buckley sounding territory near its vocal conclusion before the video (and song) takes a surprising and catchy left turn around the 1:50 mark.
"No Sunglasses" quickly transitions into its dark neon stage as the muscular guitar riff undertones come out before drifting away in a psychedelic fashion. The video does everything you want from this media as it plays to the eyes and really enhances the track. Whitewash live up to their name as "No Sunglasses" slow burn vibe takes over and lets the psychedelic aspects of its guitars simmer in the background. It is the perfect introduction to this New York City band and what you will find on their EP.
Enjoy The Fire Note's video premiere of "No Sunglasses" below!
Whitewash Website
Whitewash Facebook
Latest posts by Christopher Anthony
(see all)