Interpol


El Pintor
Matador Records [2014]



Fire Note Says: Interpol plays to their own drum on fifth LP.
Album Review: Interpol's new record, El Pintor, is about to cause much debate. It will only take one listen and the bickering will start as lines will be drawn, some fans will be lost forever and some purists will be screaming Carlos! I say this because the band's fifth full length is its first in four years and first without talented bassist Carlos Dengler. I also say this because there is no mistake, El Pintor is 1000% Interpol.
So many times, bands are harshly criticized because a new record does not show enough "progression." On the flip side, groups also can get in trouble for moving away from their core. El Pintor definitely does not move Interpol from their core and some critics will be scouring to find their progression. Guess what? Not going to find it as Interpol is brooding, dark, muscular, direct and melodically tuneful. Sound familiar? You bet. El Pintor is not the equal of their critically hailed debut, Turn On The Bright Lights (2002), but it has its soul. Singer Paul Banks has never sounded more confident and now also has taken over the bass duties. The first single and track on the album, "All The Rage Back Home," has the perfect soft entry with Banks familiar tone before it just explodes out of the gate with a roar that completes with some muffled call outs in the background of the chorus. It is one of their catchiest songs since 2004's "Evil" from their sophomore album Antics. The over five minute, "My Desire," follows it with a building tension burner of a song that is textbook Interpol and even shows a higher range with Banks' vocals which gives a hint of how this tighter, now trio is going to thrive.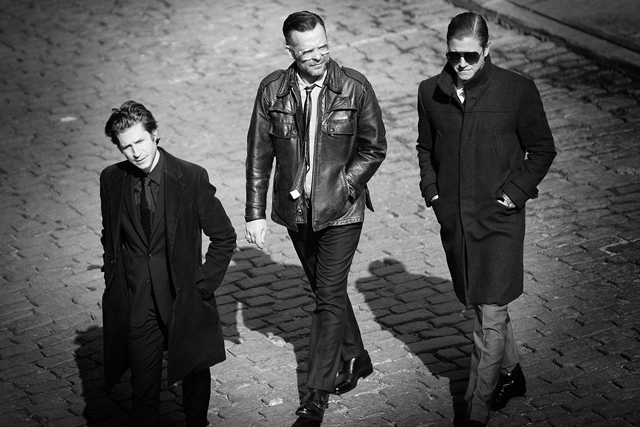 Subtle manipulation and a circling of the wagons is where El Pintor's strength lies. The band absolutely keeps their core here and is better for it. The songwriting is tighter, the gloom is gloomier, the aggression is contained but ready to explode and as a three piece, Interpol seems recharged. Sure there are several balladish songs here that won't stick because of their formula but those are far and few between. Basically, Banks says it all in the opening line of "Ancient Ways" when he calmly states "Ooh, fuck the ancient ways." In the case of El Pintor, he really is talking about the last 10 years because this is a record that finds the band once again relevant and should reconnect with fans that may have wandered off over the last decade.
Key Tracks: "All The Rage Back Home" / "Anywhere" / "Breaker 1"
Artists With Similar Fire: Joy Division / We Were Promised Jetpacks / Arcade Fire
Interpol Website
Interpol Facebook
Matador Records
– Reviewed by Christopher Anthony
Latest posts by Christopher Anthony
(see all)