Los Angeles Police Department


Los Angeles Police Department
Forged Artifacts [2014]



Fire Note Says: LAPD's self-titled debut is a concentrated dose of swirling, fuzzy psych-pop.
Album Review: Los Angeles Police Department aren't from California, nor are they a law enforcement agency—and neither is LAPD a "they." Instead, it's the name Ryan Pollie (who's from Philadelphia, by the way) has chosen for his one-man-band project. It's been getting a lot of attention lately, and for good reason: Pollie's formula may sound similar to those omnipresent Fire Note favorites led by the Fading Captain—short songs, lo-fi recording, catchy hooks—but the final product on Los Angeles Police Department isn't exactly what you might expect.
For one thing, Pollie's voice is a fragile tenor, comparable to other "boyish" vocalists like Sufjan Stevens, Ben Gibbard and Conor Oberst. Like Stevens, Pollie often multi-tracks his vocals, resulting in a haunting choral effect that at times recalls harmony-rich acts like Fleet Foxes, at others the odd inflections of Van Dyke Parks. While the recording is technically "lo-fi," this isn't Vampire on Titus; there's a hissy, analog sound, but the vocals are clear, the instruments well-recorded, the mix cohesive. Guitars are at the center of LAPD's sound, but Pollie manages to coax several different tones out of them so that from one track to the next the sonic textures are fairly diverse, and the overall vibe—while a bit ramshackle—is relaxed, introspective, and self-assured; think Andrew Bird, Neutral Milk Hotel, and the aforementioned Fleet Foxes.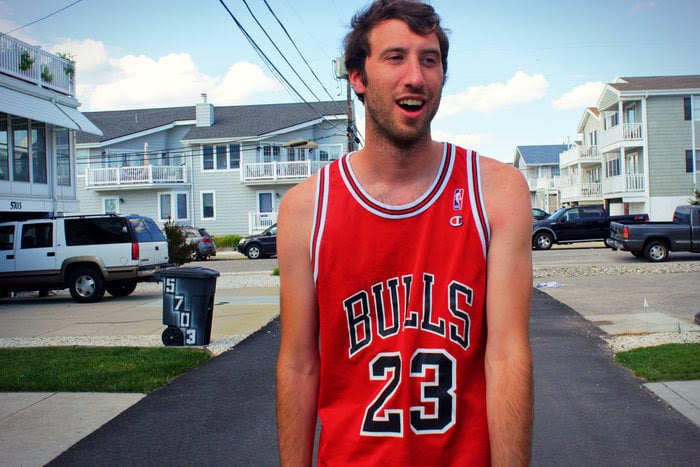 At eleven tracks in under twenty-five minutes, Los Angeles Police Department gets right down to business. Opening with one of its best tracks, "Cave," the album pulls you in with its warm, mellow sound. Electric guitars carry the melody while banjo picking fills in the spaces, all backed by a bass line that both mimics the main hooks while also remaining in sync with the simple drumming. Other high points include the expansive "Seven Months," with its catchy guitar riffs and buried snippets of conversation, and the melancholic acoustic ballad "August 31," which sounds like something you might find on an early Tallest Man On Earth record. There's also "She Came Through (Again)," the upbeat psych-pop number that started the buzz surrounding the project, as well as the relatively frenetic alt-country-influenced closer "If You See My Woman" and the dream pop harmonies of "Go Down."
Los Angeles Police Department may technically be something of a "niche" album, but it's one you should give a shot, especially if you like any of the bands mentioned. It's surprising diversity and almost microscopic running time mean that even if you don't end up returning to it, you won't have much of a chance to be bored. Chances are, though, LAPD's earworm melodies and quirky construction will keep you coming back, and its "less is more" philosophy will leave you hitting "repeat."
Key Tracks: "Seven Months" / "Cave" / "August 31"
Artists With Similar Fire: Sufjan Stevens / Unknown Mortal Orchestra / All-Time Quarterback

Los Angeles Police Department Website
Los Angeles Police Department Facebook
Forged Artifacts

-Reviewed by Simon Workman
Latest posts by Simon Workman
(see all)