The Rentals


Lost In Alphaville
Polyvinyl Records [2014]



Fire Note Says: The Rentals are back and they still want to be your friend!
Album Review: I will admit that I had no idea what to think about ex-Weezer Matt Sharp bringing back The Rentals brand after a 15 year absence. I lived the heyday of alternative nation in the mid 90's and I have great memories of the group's debut, Return of the Rentals (1995). "Friends of P" was a memorable song plus Weezer drummer Patrick Wilson and the Haden sisters from That Dog. set up a perfect cast. The Rentals follow up, Seven More Minutes (1997), did not quite capture the same magic and then the band disappeared.
In the later 2000's, Sharp reemerged on the scene with some smaller Rentals projects but nothing like this full-fledged record, Lost In Alphaville. To my surprise, this album is not only good but it may be the best collective batch of songs The Rentals have released. It does not have the same early spunk of 95' but it also doesn't try. This is key because The Rentals are very 2014. They also come to us with a very different lineup that finds Sharp joined by Jess Wolfe & Holly Laessig (Lucius), Ryen Slegr (Ozma), Lauren Chipman (The Section Quartet), and Patrick Carney (The Black Keys). I am sure Black Keys skins man Carney caught your attention so you can put any worries about drumming to rest.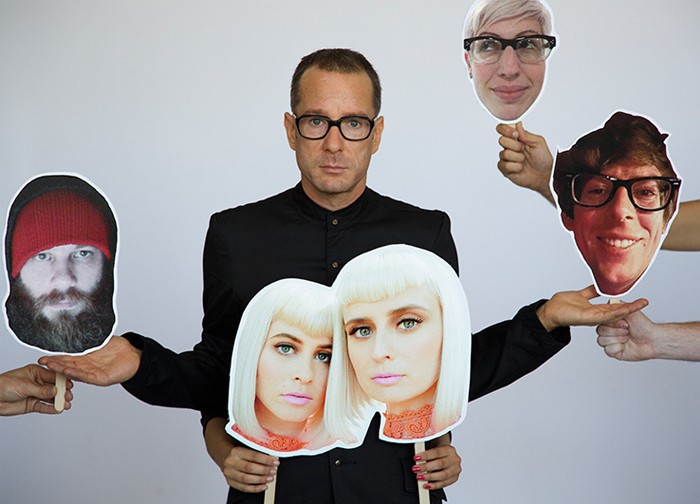 Right from the opening song, "It's Time To Come Home," the band seems in the right mode with the track's soft delivery and the opening lines "What a strange day / Put your head out the doorway / Into the streets where the kids play / A game you used to know." This pulsing song reintroduces you to The Rentals and lets you know that they realize this is not 95' anymore and that Lost in Alphaville is not their first rodeo. This sets you up for the upbeat "Traces Of Our Tears" and then the big stand out song "Stardust." It is an under 3 minute subtle pop tune that emphasizes The Rentals best parts like the overall slower tempo that explodes with drums and guitar on a dime, swirling female background vocals and the memorable chorus "We're all just like stardust, moving on," that makes its way around several times.
The rest of Lost in Alphaville follows The Rentals formula and if you were a fan before you will like this record. I especially enjoy that there is no retreat back to the 90's on this album. It has a very modern silkiness to it and benefits from the mixing of D. Sardy (Jay-Z, LCD Soundsystem). I hope Sharp stays with The Rentals because the direction found here on Lost in Alphaville is perfect and I would gladly tune in again.
Key Tracks: "Damaris" / "Stardust" / "1000 Seasons"
Artists With Similar Fire: Imperial Teen / The New Pornographers / Fountains of Wayne

The Rentals Website
The Rentals Facebook
Polyvinyl Records
– Reviewed by Christopher Anthony
Latest posts by Christopher Anthony
(see all)