The Young


Chrome Cactus
Matador Records [2014]



Fire Note Says: Texans kicking up goth-tinged tumbleweeds.
Album Review: "Oh, good," I thought at the first riffs of lead track "Metal Flake", "someone is finally aping [Urge Overkill's] Saturation." This didn't stick, but it's a starting point. The riffs and grooves are the stars here: the vocals sometimes sound as if the singer was chosen by drawing straws.
"Cry of Tin" made me smile by starting off exactly like New Order's "Waiting for the Siren's Call," then chugging along menacingly until the guitars roll all the way in at ninety seconds to show us why we're really here: did I mention guitars? "Chrome Jamb" chugs like a slow "Teenage Riot" then breaks for rests at the chorus over an actual pretty resolution. "Ramona Cruz" turns down the sustain, and bops in a way that shouts "second single" while bringing in some clanking percussion and amazing guitar effects, but could benefit from a more thought-out chorus.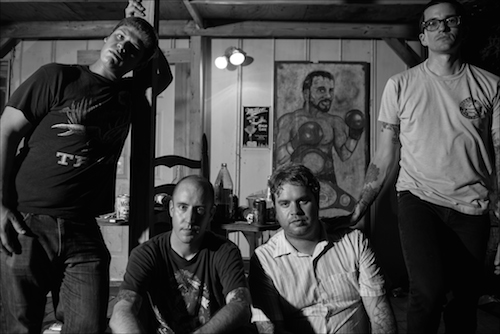 A lot of "death-at-the-drapstrip" atmosphere is cooked up, in fact, often obscuring that there tends to be a dearth of actual song. Sometimes this works to a good effect: "Apaches Throat" boils and boils in a gothic manner that makes its balladry perfect for the soundtrack when they finally do a vampire-themed Pretty in Pink remake (a compliment). The titles of closing trio ("Dressed In Black," "Slow Death," and "Blow the Scum Away) made me think that these dudes would be attired in Horrors-style death drag, but they actually look like a tattooed Feelies, which is a great way to look. And "Dressed in Black," in particular, stands outside of time: it could come from any era in the last 35 years. Great record for a hot day, or a hot night after a hot day.
Key Tracks: "Cry Of Tin" / "Chrome Jamb" / "Ramona Cruz"
Artists With Similar Fire: Bauhaus / Sonic Youth / Alien Sex Fiend
The Young Website
The Young Facebook
Matador Records
– Reviewed by Nick Eddy