Connections


Into Sixes
Anyway Records [2014]


Fire Note Says: Connections third LP, Into Sixes, is full of indie rock hooks and anthems.
Album Review: Connections had a very efficient first year as a band releasing two full length LP's (Private Airplane and Body Language) as well as a 7-inch e.p. (Tough City). Anyway Records offers the first 2 LP's and the e.p. on a cd version appropriately named Year One. One might think that such a manic output might water down the quality of a bands third release. That is not the case with the boys in Connections. Into Sixes is their best record to date.
Into Sixes showcases guitarist Andy Hampell and singer Kevin Elliot's keen sense to write punchy energetic indie rock anthems. They have been writing songs together since the mid 90's during their days in their previous band 84 Nash. They have an ability to stop on a dime mid song and take it to the next level with a catchy chorus that will get stuck in your head for days.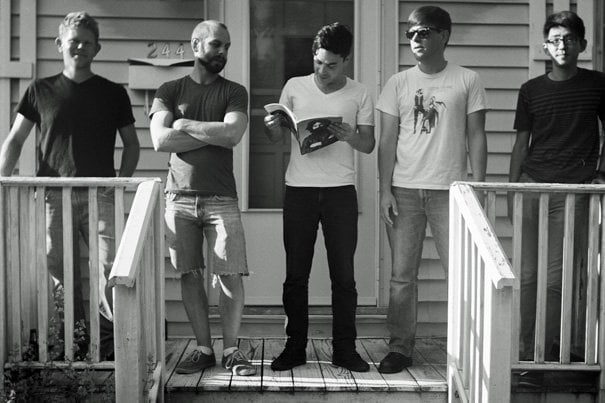 The opening track "Ayliah" is the perfect example of the anthem writing approach. "Think fast/Be Cool/Ayliah!/Ayliah!" They don't teach you to write hooks like this in music appreciation class. It is a trait that few people, let alone bands, have the ability to capitalize on. The first single "Beat The Sky" is another gem.
The guitar work is phenomenal on Into Sixes. Fans of Albert Hammond Jr. of The Strokes will enjoy the guitar solos throughout this LP. The vocals seem to be pushed up a bit on this record in comparison to the last two, which is a good thing. With Connections touring with the likes of The Breeders and Neutral Milk Hotel, the world should be taking notice as they prepare for potential indie rock domination. Watch out for the hook!
Key Tracks: "Ayliah" / "Beat The Sky" / "Brothers and Sisters"
Artists With Similar Fire: The Mice / The Thermals / The Strokes
Conncections Website
Anyway Records
– Reviewed by Joe Eversole