Band Of Skulls


Himalayan
Electric Blues Recordings [2014]



Fire Note Says: With chops and moxie, Band of Skulls soldier on with fun, danceable tunes.
Album Review: It's funny, but a music lover of my prowess should really know more about Band of Skulls. Having come from a background of riffing blues, The Dead Weather, The Kills, and/or insert band of too-cool-for-schoolers that dress in black, I have heard that I should definitely know about the band's debut Baby Darling Doll Face Honey. Fast forward about five years and the band is now on their third outing, Himalayan, a record filled with swaggering darkness, hints of leather-clad attitude, and sinister sense of fun.
Himalayan is always at its best when it's at its rocking hardest, which is good news because that happens most of the time. "Asleep At The Wheel" is the exact right way to begin an album as Russell Marsden croons "Where we are going is anyone's guess." The title track and top song on the album never skips a beat with its intense injection of sex and swagger. The constant rumble of guitar almost conjures the essence of Tame Impala's "Elephant" on the invert. Himalayan does take some branching paths and for the most part that works too. "Nightmares" actually houses some of the most genuine, spacey moments on the album and that cosmic energy totally works.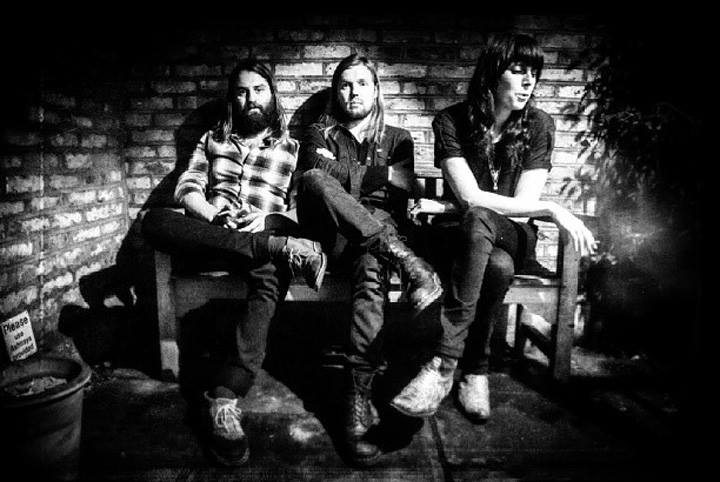 It's the attempts at "ballads" that really left me with a feeling of "meh." With more and more listens, though, I found that the "meh" actually dissolved into like. "Cold Sweat" twirls with dreariness, but only gets a bit more interesting with its noise-swarm crescendo near the end—it might be the one exception, but there's still a lot to like. "I Guess I Know You Fairly Well" takes a Black Keys tack with the mantra "walk softly, but carry a big stick." "You Are All That I Am Not" keeps things slick and slow as well. But what really helps is the Skulls brand of tenderness beneath all the attitude. "You Are All That I Am Not" keeps the guitars modest for a time but has one of the most memorable solos on the album, and "I Feel Like Ten Men, Nine Dead" is a huge track with a creaky, western vibe that also just so happens to be the most Dean Fertita-like of the bunch—no complaints here. Final track "Get Yourself Together" conceals darkness under one of the albums poppiest offerings.
Himalayan was definitely an oddity in my review catalogue. As soon as I heard the album I was ready to peg it at a 3.5; but the more I listened each song seemed to have a part or two that would really pop. Heck, I love my darkened blues rock as much as the next guy, but what really came as a surprise is how much I loved Band of Skulls latest full length. It might still be a little early to make predictions, but with their next full length Band of Skulls have even more to prove. Until that day, though, I have no problem jamming out to "Himalayan," or any of its neighboring tracks.
Key Tracks: "Himalayan" / "Nightmares" / "I Feel Like Ten Men, Nine Dead"
Artists With Similar Fire: Blood Red Shoes / The Dead Weather / Black Rebel Motorcycle Club

Band of Skulls Website
Band of Skulls Facebook
-Reviewed by Christopher Tahy
Latest posts by Christopher Tahy
(see all)