Joyce Manor


Never Hungover Again
Epitaph Records [2014]



Fire Note Says: Joyce Manor upgrade their sound.
Album Review: I like the fact that Torrance, California's Joyce Manor get in and get out when it comes to records. With two albums under their belt that total about 33 minutes combined it seems that waiting two years for Never Hungover Again has been a task for fans. It also has been a scary wait because this record is their first for Epitaph and the first time their typical DIY approach has been somewhat abandoned. Not only was Never Hungover Again recorded in a totally legit studio but Tony Hoffer (Beck, Supergrass, Belle & Sebastian) mixed the album which I am sure had hardcore followers tremor.
The good news for the faithful is that Joyce Manor has not switched up on you that much. Like before, singer and primary songwriter Barry Johnson hits you with tales of relationship problems, party nights and broken homes while the band packages these ten tracks in 20 minutes. So far everything sounds familiar – right?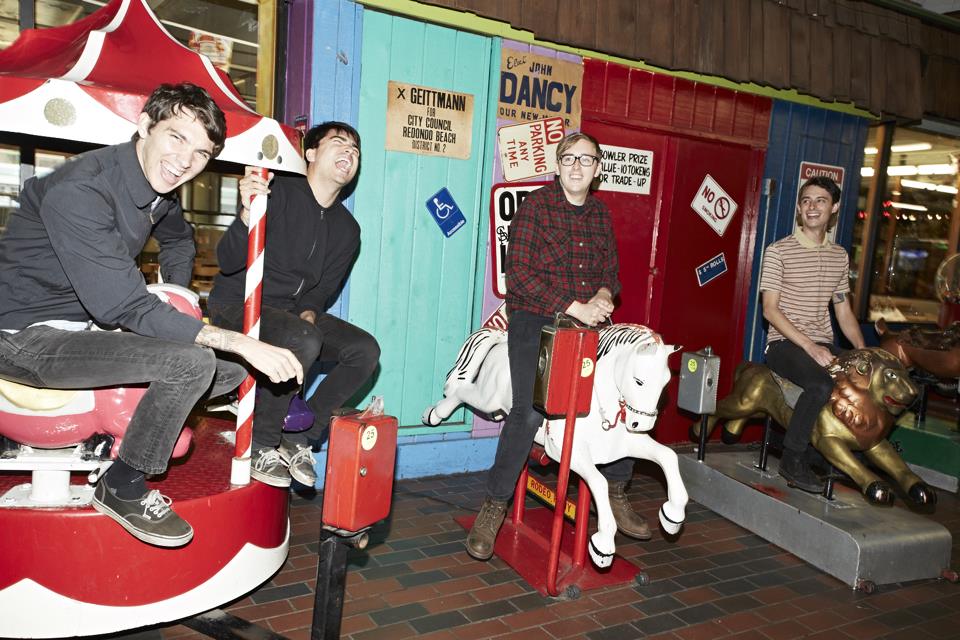 Well that leaves the actual music. That is where Joyce Manor has accepted the upgrade. The result of studio time and Hoffer being involved can be directly heard in the tracks themselves as they will pop out of your speakers. The style and emotion remain the same but Johnson's vocals soar a little higher, the drums pound a bit sharper, and guitar riffs – riff a bit harder. For some, the loss of their more lo-fi punk will be a downer but I think this direction only expands their talents.
Never Hungover Again is an emotionally solid and compact record that is easy to listen to over and over. With repeat plays you hear how Joyce Manor is the same band. These quick numbers still have the power to place visual images in your brain like when "Heart Tattoo" gives you love and pain while the just over minute long "Catalina Fight Song" takes a confrontational stance on a person's mindset. Short and to the point is where Joyce Manor has always succeeded and once again they complete this task with a brighter sound. Some people will dismiss this record because Joyce Manor are no longer cutting edge but take a closer spin of the group's Epitaph debut and you will discover gloss and pain will go a long way.
Key Tracks: "End Of Summer " / "Heart Tattoo" / "Falling In Love Again"
Artists With Similar Fire: Balance & Composure / The Hotelier / Braid
Joyce Manor Website
Joyce Manor Facebook
Epitaph Records
– Reviewed by Christopher Anthony
Latest posts by Christopher Anthony
(see all)