Sweet Apple


The Golden Age Of Glitter
Tee Pee Records [2014]



Fire Note Says: Sweet Apple invites you to turn it up and rip the knob off!
Album Review: I hesitate to call Sweet Apple a supergroup, though some of the members are sort of famous, but that term supergroup has all sort of preconceived notions of half-baked ideas, jam sessions and general wankery that is usually better on paper than what actually gets recorded. Leave those preconceived notions at the door, because Sweet Apple is nothing like that. This is a fully functional rock machine featuring the talents of John Petkovic, J Mascis, Dave Sweetapple and Tim Parnin, who you might know better as members of Witch, Cobra Verde, Dinosaur Jr, Death of Samantha, and of course Petkovic was once a member of Guided by Voices as well, but more about why that is relevant in just a moment. Their new album, The Golden Age of Glitter is everything that is great about rock. It's glam, it's post punk, it's power pop, it's garage rock all rolled into one, and despite pulling from so many different styles it holds together incredibly well. This is a party record in the best sense of the term, put it on and let it crank.
The album has a couple of notable guest vocal spots, the first being the one and only Mark Lanegan, who duets with Petkovic on "Wish You Could Stay (A Little Longer)" and "Let's Take the Same Plane" (which also features Rachel Haden). "Wish You Could Stay (A Little Longer)" is a great rocker and opens the album on an incredibly high note, "whereas "Let's Take the Same Plane" is a more reflective song that sets a more mellow mood and works exceptionally well at mixing up the packing of the album. "Reunion" is the first of two songs on the album that just so happen to feature Guided by Voices frontman Robert Pollard, and it's a strutting rocker full of swagger and attitude. "Under the Liquor Sign" is the second song to feature Pollard, and it's another winner. Man it would be great to see these guys on stage belting this one out. Elsewhere, "Boys in Her Fanclub" sounds like vintage Cheap Trick, Petkovics voice is really incredible on the whole album, but on this track in particular he kills it. Mascis plays mostly drums on the album, but he does lay down some smoking leads on three different tracks, which immediately make your ears perk up, his playing is unmistakable and only adds to the greatness on the songs he is on.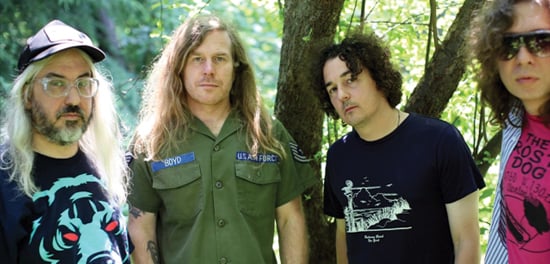 I find myself going back to this album all of the time and playing it constantly. To say it is heavy rotation is an understatement, lately, it is the rotation! Give this one a chance, by the second listen you will be hooked!
Key Tracks: "Wish you Could Stay (A Little Longer)" / "Boys in Her Fanclub" / "Reunion"
Artists With Similar Fire: Dinosaur Jr / David Bowie / Cobra Verde

Sweet Apple Website
Sweet Apple Facebook
Tee Pee Records
– Reviewed by Kevin Poindexter
Latest posts by Kevin Poindexter
(see all)