Bleachers


Strange Desire
RCA Records [2014]



Fire Note Says: Check out Bleachers for an entertaining yet introspective summer album.
Album Review: On the surface there are a lot of reasons to not give Bleachers a chance. The "band" is essentially the work and side project of Jack Antonoff, the guitarist for fun. On top of that, Antonoff's famous girlfriend is Lena Dunham, of HBO's Girls. Take two overexposed entities and it's tempting to dismiss this album. What I found was an often joyous, often catchy, and at times uneven debut LP. That's all to say that Strange Desire is worth giving a chance.
There are two ways to approach a funeral. One is to mourn the loss of the deceased, reflecting on the temporariness of life and grief. The other is to celebrate life and the time that you got to spend with the one you've lost. Antonoff has mentioned that the death of his sister, which occurred right around the time of 9/11, inspired this album. He uses the latter tactic to tackle themes of mortality and loss. That tone brings depth to Strange Desire with tracks such as "Like A River Runs" and on the infectious "I Wanna Get Better." That song is the most poppy on the record and made me think of a balls-out Talking Heads tune. Sing-alongs, tinny electro beats, and a staccato vocal delivery combine to make an urgent song.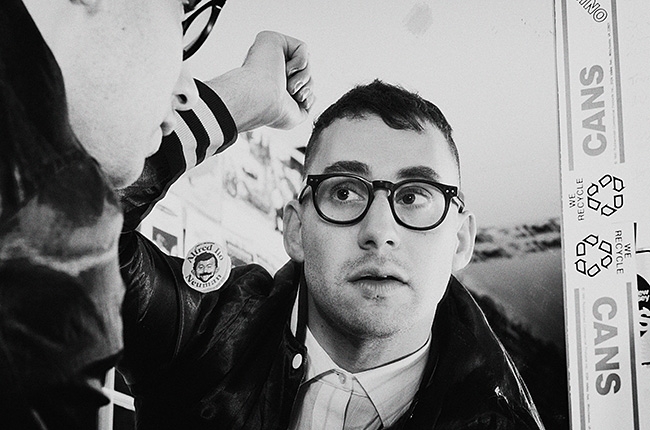 "Rollercoaster" is another uptempo number that I found bouncing around my head long after I stopped listening. And "Wild Heart" is a big song that sets the tone for the rest of the album. These tracks all have a profound intensity that finally slows down with the peaceful "Wake Me." Strange Desire seems to run out of steam with a few reprises on Side B, leading me to believe that the album stretches too thin on its second half.
Jack Antonoff's side project Bleachers is well worth a listen. It lacks the histrionics of his other band, fun., but plays up that band's pop tendencies. From beginning to end the album does drag in places, but when Antonoff hits his target the music is exciting and captivating. Strange Desire is an unlikely summer album given its subject matter but you'll find yourself dancing along nonetheless.
Key Tracks: "I Wanna Get Better" / "Rollercoaster" / "Wild Heart"
Artists With Similar Fire: Passion Pit / fun. / MiniBoone

Bleachers Website
Bleachers Facebook
RCA Records
-Reviewed by Matthew Heiner
Latest posts by Matthew Heiner
(see all)